In Nothing Personal by Karina Halle, Vacations are not all they're cracked up to be. That's what Nova Lane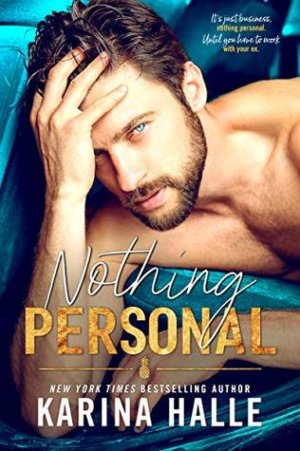 learns when her trip to Vegas goes sideways, breaking up with her boyfriend and finding out when she gets home to Hawaii that she lost a promotion she didn't even know she was up for. To add insult to injury, Nova's new temporary boss is her ex-friend with benefits, Kessler Rocha. The former NHL player is still as handsome and beastly-strong as ever. But becoming a single dad seems to have settled him down a bit. And that does all kinds of weird things to Nova's head, considering she once had visions of a future with Kess. A future that might be on the table once again.
"I'm the luckiest guy in the world… I know I only have you like this, in this moment right now, but even just a moment with you is enough. Anything more than that is too good for the likes of me."
Good lord.
This man.
Kessler has to admit he wasn't quite ready to face Nova again when it came right down to it. He thought after so many changes in his life, the biggest of which was becoming a father, he'd know how to handle his attraction to Nova when they began working together at Kahuna Hotels. Kess didn't realize that not only would the chemistry between them be even stronger, but that he didn't realize how much she had meant to him five years ago. He now has his son Hunter added to the equation when it comes to future plans–something he wouldn't have any other way. But Kess wants to see where things might lead between himself and Nova. Well, other than to an office tryst. Because this time around, he wants so much more from his gorgeous coworker. Including a happily-ever-after.
"You want to know why we didn't work out?" she repeats. Slowly. Her words like miniature bombs. "Really? You want to know?"
I try to shrug. "I was just joking…"
"No, really," she says, taking a careful step toward me. "You seem like you want to know."
I should probably protect my balls at this point.
Nothing Personal is pure RomCom heaven. A laugh-out-loud romance that got me right in the feels, I couldn't help but fall for Nova and Kessler as they meandered their way through the minefield that was their personal and professional relationship.
'Every cell in my body is begging for her, wanting to know what it's like to have her heart. I want her heart, to possess it, to protect it and never let it go.'
I'm definitely a fan of Karina Halle's work, particularly the fact that she's not afraid to explore some darker themes to add depth to her romances. In this case though, Nothing Personal was a hilarious, extremely sexy good time that I didn't want to end. Ever. It was reminiscent of some of my favorite RomCom authors, like Alice Clayton, Emma Chase and Christina Lauren, with the humor level way up there, at times bordering on juvenile–but in the funniest of ways. Halle's characters here had the same pull for me as the aforementioned authors' work as well. Kessler and Nova were down to earth and so darn likable that you'll want to befriend them by the end of their story. Especially with all the shenanigans they got up to!
I do need to mention that this book had several steamy, explicit love scenes and didn't shy away from using profanity. Which doesn't bother me in the least, but I know some readers dislike it. That having been said, this was a very modern mash up of a second chance romance and an enemies to lovers trope. And a single dad trope. So obviously there was a lot for Halle to work with, which she did fantastically. I liked that Nova and Kessler had this complicated personal background together and by pairing that with them working side by side, him as her temporary boss no less, it really showed off their competitive personalities–and we saw the attraction that was stronger than ever. There was a lot of personal growth for both ex-hockey player Kessler and workaholic Nova. And I thought it fitting that his son Hunter was the catalyst for some of the biggest changes for Kessler. What is it about a single dad that pulls on the heartstrings?
I would say Karina Halle's foray into RomCom was a definite success. Fans of the genre will be sure to love the lively dialogue, the chuckle-until-you-cry situations (chickens!!), and of course the smexy, outrageously hot romance. Highly recommended.
Book Info:

Publication: December 26th 2018 | Karina Halle |
It's just business, nothing personal…until you have to work with your ex
NOTHING PERSONAL is a brand-new, full-length STANDALONE ROMANTIC COMEDY with a single dad, enemies-to-lovers, second-chance office romance twist, from the NYT & USA Today Bestselling Author of A Nordic King and Bad at Love.
Nova Lane is having the worst week possible. Her latest relationship ended while on her much-needed vacation, then upon her first day back at work, she learns that her beloved boss has quit – and despite having worked so hard for it, she's not being considered for his position.
Who is being considered for the position is none other than Kessler Rocha. Her ex-coworker and ex-lover, Kessler's the man who broke her heart five years earlier and the reason she moved thousands of miles away, switched jobs, and created numerous voodoo dolls in Kessler's (very burly, very handsome) liking.
Yup. Worst week ever.
New in town and on her turf, Kessler promises he's not the same man he was – and considering he's now a single father to a precocious toddler, he's telling the truth.
But he's still an arrogant and devilishly charming man who's taking over the position Nova feels she deserves. The fact that he's gotten even more sexy over the years doesn't help either.
Now Nova and Kessler have the choice to let bygones be bygones, or fight with each other every chance they get, with unresolved sexual tension only adding fuel to the flames, creating a fire that might just burn down the whole office.
In the corporate world they say it's just business, nothing personal.
Nova and Kessler are about to show just how personal things can get.
NOTE: This book may be a light and sweet comedy BUT it also contains raunchy humor, a copious amount of swearing and, of course, some fairly gratuitous sex scenes! READER DISCRETION IS ADVISED.