In Nothing Sweeter (Sweet on a Cowboy #2) by Laura Drake, Rancher Max Jameson doesn't like change. However, the past year has held nothing but change for him and his family's ranch, High Heather. After losing his father, it's up to Max and his younger brother, Wyatt, to figure out a way to make the ranch profitable again. When red-haired beauty Bree answers their ad for a groomer, Max is reluctant. He's instantly drawn to her and he knows it will only cause issues down the road. He begrudgingly gives her a chance and Bree proves her worth in the first week. But that still doesn't stop him from wondering what secrets she's hiding and how he can keep from falling for her.
'What kind of roads have you been traveling before you hit the Heather, Bree? Will you ever trust me enough to tell me?'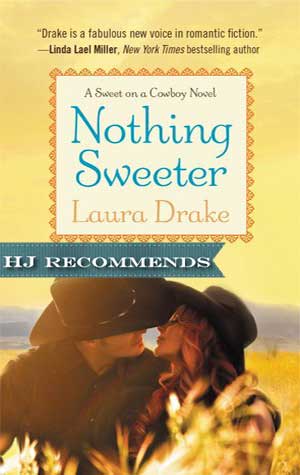 Aubrey Madison has certainly been to hell and back over the past couple of years. She's been on the road searching for somewhere to make a new beginning after the bad decision that cost her everything. Working on the High Heather Ranch is a welcome change. Although her attraction to her boss Max is most likely not a good idea. Overhearing the financial problems the Jameson brothers are having running the ranch, Bree decides to offer them her knowledge in financing and comes up with a plan that could get them back on top again. Her life becomes more tangled with Max and the ranch, which proves to be exactly where she wants to be. But when she finally comes clean about her past, will Max tell Bree to leave or will he understand her better than anyone ever has before?
Nothing is going to hurt this man on my watch. She cradled his face in her hands to lift his head. "Forget everything for a while, Max." She bent to kiss him gently. "Just let me love you."
Nothing Sweeter is…well, just as it sounds: a sweet, passionate, at times heart-breaking romance set in picturesque Colorado with two very strong-willed protagonists, each recovering from their own recent setbacks.
Laura Drake has created a cast of easily identifiable characters who all had their own issues but who fought together to get the High Heather Ranch back in the black. That common cause seemed to hold them all together. At first. But lack of communication changed the dynamics in their relationships and created friction. Sometimes in stories where there are secrets being withheld, it gets frustrating for the reader as we know where things are headed. But in this particular story, I can understand why Bree was fearful of disclosing her past to Max and Wyatt, even though she knew as she went along that keeping it under wraps would create problems.
I really liked the pace at which Max and Bree's relationship grew. They both needed to get accustomed to how they would be able to work with each other–Max always being bossy and grumpy, and Bree keeping busy at all costs. But once they were together, I thought they really brought out the best in each other's personalities. And I love when that happens in a romance. I also thought Max's struggling relationship with his brother Wyatt was an interesting part of the storyline. Wyatt was someone Bree could turn to as a friend, and Max tried throughout the story to be more open minded about some of his brother's choices.
I think you'll really enjoy Nothing Sweeter if you are a fan of rugged cowboys and the strong, smart women who love them.
Book Info:

Published January 28th 2014 by Forever | Series: Sweet on a Cowboy #2
A Love as Wild as the West…
Aubrey Madison is starting over. Leaving Los Angeles and everything behind except the scars of her ruined past, Bree sets out for cowboy country. Now she has a new home, a new job—and a new worry: the ruggedly sexy rancher who makes her long for things she shouldn't…
Rough and tumble cattleman Max Jameson has broken wild stallions and faced angry bulls. Yet the redheaded city cupcake who turned up at the High Heather Ranch might be his undoing. Bree has a plan to rescue the ranch from foreclosure that's just crazy enough to work. But will Max gamble his future on a beautiful stranger?
"Touchingly real. Tender and timely. Laura Drake creates characters you know you've met and you have to root for." -Pamela Morsi, USA Today bestselling author on The Sweet Spot
"An emotionally packed story that will pull all the heartstrings." -Christie Craig, New York Times bestselling author on The Sweet Spot