Going for Four (Counting on Love #4) by Erin Nicholas is a really good book. I read the first three in the series and book four is just as good as the first three. So far, each book has focused on one of the four Dixon sisters and this time Olivia, the youngest of them all, is in the hot seat. The Dixon's are an extremely close-nit family that constantly look out for one another. Conner, the oldest sibling and only brother, became the family's patriarch at the age of seventeen when their father passed away.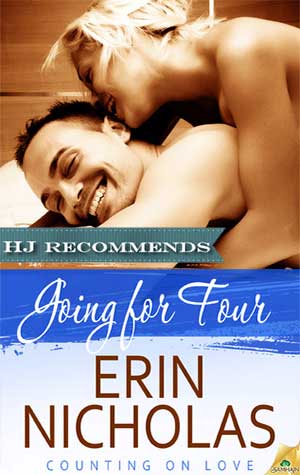 Olivia Dixon is a hopeless romantic and when she finally falls in love, she wants to see fireworks every time she is kissed. Her two previous relationships ended badly and now that she is twenty-six and her sisters have found love, she is more determined then ever to find her soul-mate.
Olivia is the assistant to Cody Madsen, the local fire chief and her brother's best friend since college. Olivia and Cody are best friends as well and do almost everything together. To any outsider, they seem like a happy couple. They have known each other for a long time, but for the past two years their friendship has evolved into something deeper. With the exception of a few languid kisses, they have kept their feelings under wraps because Conner believes that Cody is not good enough for his baby sister, and neither Olivia or Cody want to screw up their personal relationships with Cody.
Since Olivia and Cody cannot belong to each other, joining an online match-matching service seems to be the only answer in their quest to find their perfect one and only. Their respective dates don't work out and they find themselves alone with each other with lustful intentions. Giving into their feelings and longing is just what they need to satisfy their desire for each another. Conner may just have to deal with the situation, if true love is what Olivia and Cody are truly about.
Olivia and Cody are warm, funny and likeable. They are homebodies that truly enjoy each others company both in and out of the bedroom. They are truly caring individuals that will do whatever it takes to ensure that the people they care about are safe, secure and happy. They learn from each other which only adds to their endearing personalities.
I especially enjoyed the evolution of Olivia's character transforming from a slight pushover into a strong woman that is not afraid to speak her mind. If you are looking for a well-written romance, with great characters, a little bit of steam and an entertaining plot, look no further than Going for Four.
Book Info:

Publication: February 25th 2014 by Samhain Publishing |  Counting on Love #4
"It's either true love…or the biggest mistake they've ever made. "
"Counting on Love, Book 4"
Hot firefighter Cody Madsen has stayed away from Olivia Dixon for almost two years-technically. Even though he talks to her every day and sees her every weekend. But there's no kissing, touching, or telling her how he really feels. Because they're "just friends." Anything more than that would mean crossing the line that Olivia's older brother has firmly drawn between them.
Olivia wants what her three sisters have-true love. She could almost believe she's found it with Cody, if it weren't for the fact that he's her older brother's best friend and her brother won't have it. And he's never steered her wrong before. Her head is telling her to trust her brother, but her heart won't let go of Cody.
Her solution? A dating site where she and Cody can each find their "Perfect Pick" once and for all.
But when the site yields some unexpected results, their real feelings come front and center. And they have to decide if it's worth the risk to cross the line from friendship to love after all.
Warning: Contains a starry-eyed romantic, a wannabe knight in shining armor, and chocolate chip cookies. A "lot" of chocolate chip cookies.