Notorious by Vicki Lewis Thompson has a special place at Harlequin having been the first sexy romance in the Blaze imprint! It's been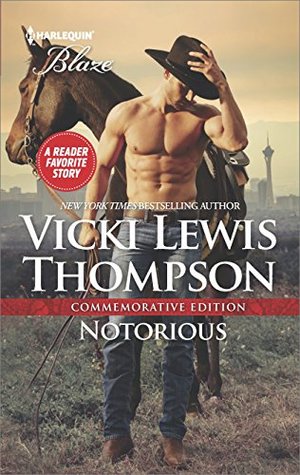 re-released in digital format so new fans and faithful readers can see where it all began.
Keely Branscom has always been a wild child, and after she posed nude as a centerfold in a men's magazine, she left her small town and used the money she made to make a career for herself as a journalist. She has good memories of where she grew up, but sad ones as well since her choices were not well received by her family and she'd been estranged from her father and sister for the last ten years. When she runs into her old childhood friend Noah Garfield who is attending a bachelor party weekend in Las Vegas, he mistakenly believes she's still living a provocative lifestyle as a stripper or a call girl, and takes it upon himself to help her get a decent job.
Keely is rightly both annoyed and amused at Noah's high handed decision making and quick call to judgment of her 'career' and decides to get even with him by seducing him. Though Noah tries to keep his hands to himself, it's a lost cause with Keely around and he soon finds himself engaging in a lusty affair with her. But what starts out as fun and sexy games doesn't stay that way when Keely starts to realize she's falling for Noah and vice versa. If she wants to be with him in a real relationship, she'll have to return to her home town and reconcile with her family. Can these two opposites find a way to make their sexy weekend into a real life long love affair?
This is a fun and sexy read and definitely worthy of being the first Blaze book! There are a few things that make it feel a bit dated such as using a cordless phone in the hotel, and no-one having smart phones, but they were minor details that weren't important to the plot of the story. The best part was seeing a heroine take control of her sexuality and be unashamed of her choices. Though Keely did not go on to a life full of sexual adventures after her magazine spread (as Noah imagined), she has a very positive attitude towards sex and no qualms about making Noah see how good they can be together. There are several steamy scenes as a result, and Noah soon gets over his guilt over his desire for Keely when she clearly is as interested in him as he is in her.
The concern Keely has about entering into a real relationship with Noah is believable. She shocked her small town with what she did, and left after embarrassing her father and sister. She believes Noah is looking for a stay at home respectable farm wife, and that's an image she won't ever present to the world. But she underestimates just how much her family has missed her, and how time and distance have changed people's opinion of her for the better. There are some sweet family scenes and touching moments as the story progresses. She also doesn't give Noah credit for accepting her for who she is, a sexy and fun loving and friendly woman, until it's almost too late. Fortunately these two find a way to make things right between them and we get a lovely happy ending for the couple. At times the honest emotion in the story brought tears to my eyes, and with an abundance of laughs too this sexy romance is purely delightful.

Book Info:

Publication: June 1, 2017 | Harlequin Blaze |
Read the story that started it all by New York Times bestselling author Vicki Lewis Thompson!
Keely Branscom has always been a little notorious. A confirmed wild child, she'd shocked the town by posing for a centerfold at the age of nineteen. But what she'd really wanted was to get a reaction from seriously sexy Noah Garfield. Only, back then, he hadn't quite known what to do with her…
Now, years later, Noah's still in over his head with Keely. But when he catches her walking into a Vegas strip joint, he knows that he has to save her from herself. Keely doesn't want to be saved. Instead, Noah's supersexy childhood nemesis seems determined to show him exactly what he's been missing