November 9 by Colleen Hoover: Rescuing Fallon from a terrible luncheon with her father,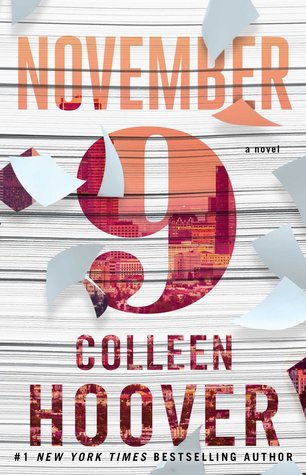 Ben knows immediately he wants this girl, but she's moving across the country to New York that night in order to follow her acting dreams on Broadway.
"Fucking beautiful," I whisper.
She smiles and then ducks her head. "I feel stupid."
"I barely know you, so I'm not about to argue with you over your level of intelligence, because you could very well be as dumb as a rock. But at least you're pretty."
If only Fallon didn't have scarring along half her body from a fire two years ago ending her teenage acting career. Refusing to allow love into her life until she's twenty-three, Fallon won't give Ben her contact information, although she wants to continue seeing him to. Instead, they make a plan to meet each other each year at the same place on the day they met, November 9th.
Only, the plan doesn't exactly go as they expected as they fall harder and deeper even as life keeps throwing blocks in their way. And when, all is finally looking good, Fallon might just discover Ben isn't all that he claimed to be.
"I missed you," he says. "A lot. And screw it if I'm supposed to admit that, but I tried the whole alpha-male thing for two seconds and I just can't do it. So you don't get alpha-Ben today. I'm sorry."
I both loved and hated November 9. Loved because it is hilarious and sweet and hot, and such a great idea. Hated because the frustration of 5 years of them not being together. Thank god she only included Nov. 9th because I couldn't have handled them going about their days during the regular year. But even if the book is just a few days out of their lives, I really got to know both Fallon and Ben. I got to love them and love them together.
The frustration was just a bit intense as I waited and waited for them to be together and because they kept not being able to because of various circumstances, usually of their own making because they were stupid and wanted to be noble.
I highly recommend November 9 to any romance reader who appreciates proper angst and an original storyline. Hoover definitely knows how to deliver a page-turning romance.
Book Info:

Publication: November 10, 2015 | Atria Books |
Beloved #1 New York Times bestselling author Colleen Hoover returns with an unforgettable love story between a writer and his unexpected muse.
Fallon meets Ben, an aspiring novelist, the day of her scheduled cross-country move. Their untimely attraction leads them to spend Fallon's last day in L.A. together, and her eventful life becomes the creative inspiration Ben has always sought for his novel. Over time and amidst the various relationships and tribulations of their own separate lives, they continue to meet on the same date every year. Until one day Fallon becomes unsure if Ben has been telling her the truth or fabricating a perfect reality for the sake of the ultimate plot twist.