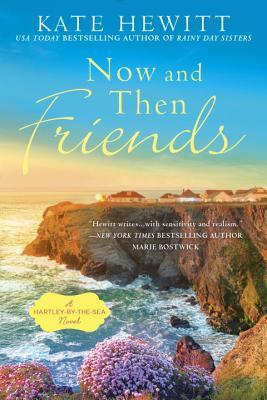 Now and Then Friends (Hartley-by-the-Sea) by Kate Hewitt: What I love about women's fiction book that I have read by Kate Hewitt is that her characters and her writing evokes such heartfelt emotions. Her characters are real, with real struggles, real emotions, real pain and problems. They are emotional, they are strong, at time vulnerable, and in the end, they come out the other side better than they went in. This is the second Hartley-by-the-Sea novel that I have read and this is the story of Rachel and Claire.
Claire West and Rachel Campbell hare the most unlikely of friends. Claire is from a wealthy family while Rachel is from the working class. Rachel is outgoing, and unafraid, while Claire is timid and unsure. They become fast friends, Rachel taking care of Claire, and Claire adoring her for it. Until they get to 6th year of school and all of that changes. Claire is surrounded by the popular girls, Rachel is left on the outside. When Rachel's mom is injured, all she really wanted was her best friend, the one person that she could count on, but Claire was no longer there for her. Neither really understands why their friendship ended, it just did and neither are the better for it.
Fifteen years later, Claire is back in Hartly-by-the-Sea, looking to make sense of the life she has. After being sent to rehab by a fiance who thinks she is a drunk, after being coddled and controlled by her family for her entire life, Claire is looking to break away and make a life of her own. And that means making a mends with Rachel, and trying to reconnect and repair the friendship that was lost so long ago.
Rachel's life is so different than what she imagined. After 2 week at uni, her father walks out on the family, forcing Rachel to quit school to come home and take care of her mom and her 2 younger sisters. Reopening her moms cleaning service, Rachel works hard to make a good life for her family and to allow her youngest sister to go to uni.
When Claire and Rachel keep bumping into each other, keep being forced to spend time in the same circle, it opens old wounds, but it also allows them to clear the air. When Rachel's mom has a health scare, it is Claire and her brother Andrew who will move heaven and earth to show Rachel that by accepting their help, by allowing them to help shoulder some of the burden, she is not weak, because everyone needs a helping hand.
I loved the ups and downs of Claire and Rachel. It is like 4 steps forward and 2 steps back most of the story. Just as they begin to make ground, something comes along to rock the boat. But Claire is determined and that makes the difference in the end. Rachel wants to believe that she can depend on Claire and Andrew, but life has shown her in the worst of ways that people leave and she is so afraid to hope, to believe to open herself up to heart ache.
The emotional journey that Claire and Rachel face in this book made me laugh, made me cry, and made me cheer as they each found the love, the life and the friendship that they so long ago thought was lost. Another amazing addition to this series.

Book Info:

 Published July 12th 2016 | NAL | Hartley-by-the-Sea
Childhood best friends Rachel Campbell and Claire West have not only grown up, but after fifteen years, they've also grown apart…
After her father left, Rachel had to dedicate her life to managing her household: her two younger sisters, her disabled mother, and her three-year-old nephew. When Rachel's not struggling to look after all of them, she makes her living cleaning the houses of wealthy families—inclulding the Wests, where a surprise now awaits her. . . .
A lifetime of drifting in other people's currents has finally left Claire high and dry. First it was her parents, then the popular crowd in school, and finally her fiancé. Now she's returned to Hartley-by-the-Sea to recover. But running into Rachel brings back memories of past mistakes, and Claire wonders if she now has the courage to make them right.
Soon Claire's brother, Andrew, asks Rachel to keep an eye on Claire, which is the last thing either woman wants. But as their lives threaten to fall apart, both Claire and Rachel begin to realize what they need most is a friend. The kind of friend they once were to each other, and perhaps can be again. . . .