NYC Angels: Heiress's Baby Scandal by Janice Lynn is a sweet and beautiful romance that will steal your heart.
Eleanor Aston hates being in the spotlight, she is always compared to her perfect sister and has always come out short. Now she finds herself forced to be right in the middle of it, for her father has donated a wing to NYC Angels, but he is out on business and her sister is down due to an allergic reaction, and she is the only person left to give a speech and cut the ribbon in her family's name.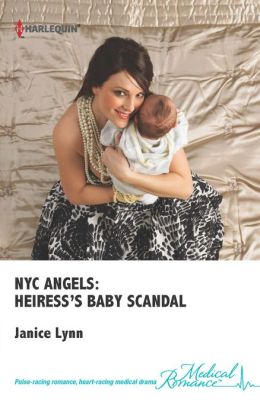 Tyler Donaldson is the most sought after bachelor in NYC Angels and a consummate flirt . He has no intentions of settling down, the easy and fast flings are good enough for him. All he cares about is his career and the babies he needs to look after. But he is surprised when he sees Eleanor during the ribbon cutting and realizes that she never made a bleep on his radar, and now his radar does not stop bleeping.
Eleanor cannot forgive her sister for making her chosen dress for the ceremony disappear. Now she is stuck with a red dress her sister chose that shows more cleavage and the curves. She is afraid that a wrong move will rip the dress and she will be humiliated by the press again, as she was when she just eight years old.
During her speech Eleanor starts suffering one of her panic and nervous attacks, and nobody seems to notice but Tyler  and his chivalry will not let him not help her out before she ends up passing out.
With the help of Ty Eleanor gets through the evening without another hitch. But she knows that she is nothing like the type he goes for, so she doesn't expect anything else to come from his help. Unfortunately for her, her father has other plans. He wants Ty to be Eleanor's date at the coming fundraiser, for he figures that Tyler's family will be good influence if he decides to run for president in the future, while Tyler takes advantage by requesting for Ellie to be his date at his family's rodeo in Texas in exchange.
After the fundraiser Ty and Ellie have one-night fling that Eleanor believes that Ty will regret. She is in denial of her feelings and is blind to his until they go to Texas and everything is put into perspective for her, for she will not be able to hide from him as easily and her need and love will be no longer denied. Especially after the consequences of their one-night a few weeks before makes it self known.
If you want a fun, sweet and sexy romance you will like NYC Angels: Heiress's Baby Scandal by Janie Lynn.
Book Info
Publication Date: March 1, 2013
The socialite and the Texan doc—is this for real?
After gossip headlines announce that reluctant socialite Eleanor Aston is in a "relationship" with smooth-talking Texan Tyler Donaldson, for one glorious night this fake fling becomes fact, not fiction! Devoted nurse Eleanor knows she's in over her head with neonatal doc Ty—and that's before the paparazzi discover her baby bombshell!