Off Limits Lovers by Reese Ryan is the sixth story in the Texas Cattleman's Club:Houston series and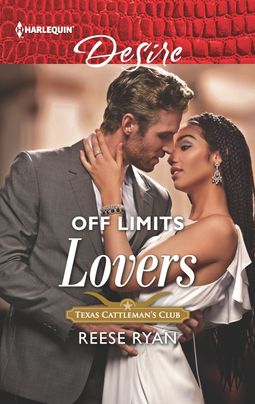 features the drama and passion of two couples with family entanglements they must overcome to get to their happy endings.
Ryder Currin has had an on again/off again relationship with Angela Perry through the last few books in the series. The biggest hurdle they face is Angela's father Sterling's belief that Ryder had an affair with Angela's mother before she died, and that Angela's brother Roarke may actually be Ryder's son. Ryder has sworn that his relationship with Angela's mother was friendship only, but do they have enough trust and faith in each other to move past their hurts and get their happy ending?
For Angela's brother Roarke Perry, his return home to help clear his father Sterling's name from accusations of running a Ponzi scheme is meant to be a short visit, until he meets friendly and vivacious Annabel Currin, Ryder's daughter. There are all sorts of complications to his attraction to Annabel. She's just broken off her engagement, she's younger than him, and her father Ryder is Sterling's enemy (and could be his father?!). Plus Roarke has taken on her legal case against her ex to recoup money spent on their non-wedding. With Roarke planning to return home to Dallas, and all the complications of getting involved with Annabel, will he trust his heart over his head?
As one can see, the Currin and the Perry families have some pretty complicated relationships! It's not just the issue of who is Roarke's father (a mystery cleared up quickly with a DNA test). Sterling is also bitter that Ryder inherited some oil rich land he felt he deserved that has caused all sorts of bitter feelings between them. This makes the two couples – Angela and Ryder, and Roarke and Annabel – have a lot to sort through and to really think about whether their feelings are strong enough to outlast the gossip and give them a strong basis for real partnerships.
At the beginning of the story, I had to draw some mental family trees to sort out all the characters and it would have been helpful to have those included at the start with the number of people getting page time. That said, I thoroughly enjoyed both of the romances! I'd seen some of Ryder and Angela's story already so it was nice to see their romance come to a fitting and sweet conclusion.
As for Roarke and Annabel, their careers play as much a part of the story as does the previously described family drama. Roarke has been happy in Dallas where he works as a lawyer for the underprivileged. Annabel is a fashion vlogger planning to open her own consignment shop with makeover services. Having both grown up in wealthy households, they have the common goal of giving back to their communities. If Roarke is going to move home to Houston, he'll have to find something else to do, and the possibility of being an ethics lawyer for his father's company to clean house is tempting.
As he and Annabel grow closer, they also share some sexy scenes together. But when Annabel makes some decisions that affect Roarke's future, he has to decide what he really wants. Fortunately they find their way to a very satisfying ending. I have to add that I loved the cover of this story, it's just how I pictured Roarke and Annabel! There is a little more detail about the murder that has taken place at the Cattleman's Club that is a continuing story arc through the series, with more still to come. In all, it's a sexy and enjoyable double romance and I look forward to reading more about these families!
Book Info:

Publication: Aug 1, 2019 | Harlequin Desire | Texas Cattleman's Club: Houston #6
Everything is bigger in Texas—
especially temptation.
For attorney and Texas Cattleman's Club member Roarke Perry, Annabel Currin is about as forbidden as it gets. A just-jilted bride, gorgeously sexy, tender-hearted…and the daughter of his father's nemesis. The sexual currents crackling between him and his client should have been warning enough. Now they're both playing with fire. And someone's gonna get burned…