In Dark Illusion (Dark #29 )by Christine Feehan , Julija Brennan's past is something difficult to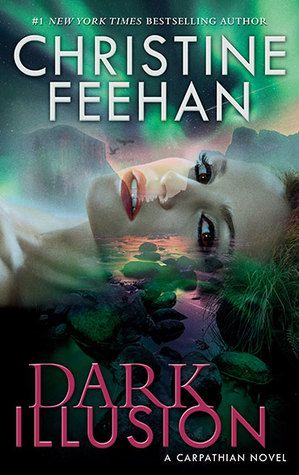 leave behind considering the horrors she has endured at the hands of evil and even by her own family. Now that she is on her own, she's set out on the Sierra Mountains to find and destroy a book of malicious spells before it can fall into the wrong hands. But trouble is following Julija. It's somehow on her dark trek that the mage finds her lifemate, Carpathian warrior Isai Florea. Worried that belonging completely to a man will equate to being powerless, she tries to resist their bond. But Julija quickly learns that Isai truly does have her best interest at heart. And that when they work together against their enemies, they make a formidable pair.
'He made her feel safe even though she knew the world around her wasn't.'
Like many of his brethren, Isai had all but given up hope that he would ever find his lifemate. But finding Julija in the mountains while on a selfless journey to use her power to destroy evil, how can he be anything other than impressed? Her reaction to their destiny, however, leaves him dismayed. Unsure if they will find a way to compromise, Isai acknowledges he has much to learn about the ways of the modern world. It's when they both admit to their failings that he and Julija begin to see their bond grow stronger, enhancing both their lives and their powers. Isai's little mage proves to be stronger than she thought which will only help them when they face down a sinister man with deadly intent.
'She was spectacular. Stunning. Having a lifemate was worth every single second of those terrible long, endless centuries.'
Explosive fight scenes and a tenuous connection between our ancient Carpathian and his lifemate that grew exponentially over time made Dark Illusion a thrilling new installment in Christine Feehan's long-running Dark series.
'Isai didn't attempt to hide his feelings for her, that stark, raw love that consumed him. She was his everything and he had no problems showing her that.'
Christine Feehan herself has been quoted as saying that Dark Illusion is a "very important book in the series arc" and she was certainly correct. Each book is important in its own way, of course, but boy didn't we learn a lot here. Not only did it introduce a new evil mastermind that will undoubtedly be an issue in upcoming installments, but we also had what I believe is the set up for the next pair of lifemates we'll be getting to know. And I. Can't. Wait!! If it is the couple I'm thinking of, then it will be a highly emotional read–much like this was–but with even more emphasis on the heroine finding her own voice. And I do so love stories that show characters who gain personal independence, so I have a feeling it will be easy to connect with.
I did unfortunately have a few moments in about the first quarter of the book where I was not happy with either main character. Isai was an old school, ancient warrior who admittedly was not used to modern relationships. He was rather harsh in his quick judgement of Julija when they first met. And she acted in a way that I couldn't quite understand, almost shunning Isai as her lifemate. But…when we saw Julija's gut-wrenching past and saw Isai trying to learn more about how women interact in today's world, it all changed. I loved everything after that. The bond that slowly but surely formed between them. How in awe Isai and Julija were of each other's abilities–him as a powerful, ancient Carpathian and she as a highly skilled mage. They had some really fun bantering where they acted like a new couple should, teasing and flirting. It was the last battle, though, when Julija and Isai combined their powers to fight evil that truly wowed me and I think will wow many readers as well.
Epic seems too small a word to use for Dark Illusion. With all that our characters endured: the loss and the constant battle against evil, they also had a beautiful fated love to cherish and triumphs to celebrate. What more can a reader ask for, right?
Book Info:

Publication: Published September 3rd 2019 | Berkley | Dark #29
A mage and a warrior must see beyond their facades and embrace the bond that links their souls in this powerful Carpathian novel from #1 New York Times bestselling author Christine Feehan.
At any other time, Julija Brennan would find solace in the quiet of the Sierra Mountains, but now the mage is in the race of her life. Having broken free from her controlling family, Julija's attempts to warn the Carpathians of the coming threat has failed and put a target on her back—and those who hunt her are close behind…
After centuries locked away in a monastery in the Carpathian Mountains, Isai Florea can't believe he's finally found his lifemate—the missing half of his soul. The second he sees Julija his world blazes with color. But despite their explosive connection Julija rebels against what she sees as Isai's intent to control her and rejects the bond that would prevent him from becoming a monster.
As their unfulfilled bond continues to call to them both, Julija and Isai aim to complete the task that brought them together. They are used to facing danger alone, but now the mage and the ancient warrior must learn how to rely on each other in order to stop a plot that threatens all Carpathians…