Off Limits Marine by Kate Hoffman is a sexy modern romance about a widow and her husband's best friend who find themselves falling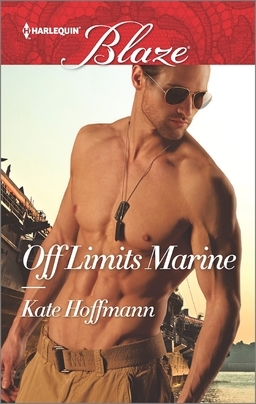 for each other. Truth be told, Gabe Pennington had his eye on the same beautiful young woman Annie as his friend Erik, but when Erik and Annie fell in love, he buried his feelings and supported the happy couple. After a training mishap results in Erik's death, Gabe and Annie have an unexpected embrace a few weeks after Erik's funeral that is too much too soon and they both retreat.
Two years later, Annie and Gabe encounter each other again and this time things are different. No longer held back by guilt, they are free to pursue a friends with benefits arrangement. Annie is in no rush to enter into another long term commitment, and in fact has her sights set on a solo sailing trip. Plus, she's determined not to get emotionally involved with another military man who could break her heart. While Gabe is worried about Annie's safety going off alone, he's there to help her get ready for her voyage, and give her a hand with her training academy while he decides what future career path to take. He's got a chance to be a test pilot, or even a teacher at a naval academy, both jobs that would keep him stateside and give him a somewhat normal everyday life. He wants Annie to be by his side – but is Annie ready to give her heart again?
I really enjoyed this romance. Though there is a 'forbidden love affair' vibe to it, the truth is that Annie and Erik's marriage had some problems that are revealed throughout the story, and Gabe is clearly a much better man for her. Plus, it's been some time since Erik died and Annie misses having that physical connection with a man. It's no hardship to let Gabe in, since he clearly is attracted to her and wants to play whatever role in her life that Annie will allow. There are some sexy scenes between these two and some sweet ones as well as Gabe shows Annie by his actions how much he cares for her. In the end it's up to Annie to make the choices that will give her a happy future. I liked seeing a strong heroine in this role and a woman not willing to give up on her dreams. Still, those dreams soon evolve and Gabe gets to play a prominent role as this couple gets a very satisfying happy ending.

Book Info:

Publication: May 23, 2017 | Harlequin Blaze |
Forbidden desire…
Marine captain Gabe Pennington knows how to keep a secret–a little too well. He's been in love with his best buddy's wife since they met. And he can't forget the stolen, passionate kiss they once shared. But now Annie Jennings has been a widow for two years, and Gabe wants her more than ever.
Except that Annie still isn't ready to say goodbye to her deceased husband. Instead, Gabe can only hope that the searing chemistry between them is enough to convince Annie to move on–and forget her promise to never again date military guys. Especially because Gabe still has one secret eating away at him. And it's a secret that could set Annie free…or destroy her faith in love forever.