In Bonded Pair (Cascadia Wolves #5) by Lauren Dane, Wolf Megan Warden knew traveling with her sisters, mother, and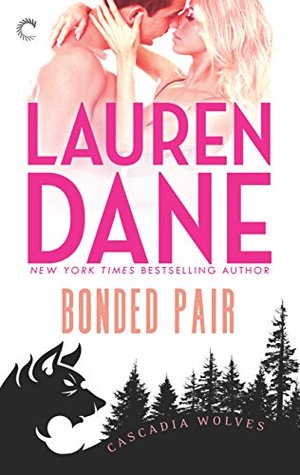 grandmother to her cousin's wedding would not be an easy trip. She's the last holdout, the remaining Warden sibling without a mate. And her family gives her no end of razing about it. Not that Megan's had a lot of time to search considering her job as Pack Enforcer. So when she meets Dr. Shane Rosario and realizes they are mates, she thinks her luck may have changed. But he's lived a lifetime ignoring his inner wolf, living as a human, and Megan isn't sure she'll be able to convince her mate that he's not a monster.
'She saw his wolf there, in his eyes. The loneliness of it struck her deep. This wolf of his wanted to be free, to be loved and she knew then, knew as she knew he was hers, their road would not be easy.'
Shane's family situation may not be the norm in most wolves lives: his mother is human, his father is wolf but not with a Pack. But it's worked for him so far. Although if he's honest with himself, his successful career as a doctor and his casual friends and girlfriends aren't fulfilling in any way. Then Shane spots Megan and his whole world changes. He feels a connection unlike anything he's ever known. And as much as he wishes he could let his wolf out, fully become part of Megan's world, his mother's words and admonitions circle in his mind. But as he struggles with his true identity, he realizes that he might not be able to face a world without his sexy mate in his life.
'And then he knew. Understood. Despite the fact he'd lived his life outside a Pack, pretty much as a human, he did understand the mate bond. Believed in its power and knew she was his.'
Formerly titled Fated, Bonded Pair is a reissued novella in Lauren Dane's popular Cascadia Wolves series. Lots of heat and a good helping of hurt feelings and resentment kept things mighty interesting while wolves Shane and Megan figured out their future.
Where this short story is towards the end of the series, I think it would benefit readers to have some familiarity with the "world" of the Cascadia Wolves for Bonded Pair to make complete sense. But if you're a fan of all things paranormal, then you'll likely be able to hop in here and read this as a standalone without too many issues. I'm fairly newish myself to this series but I'm already a fan of Lauren Dane's work so I was comfortable with the story, the heat level (yowza!!) and how flawed and real her characters always are.
Megan and Shane made a compelling pair. They were both self-assured in their careers and had rather strong personalities. Being natural mates meant that their chemistry was off the charts, of course, and led to some super steamy love scenes. (Even a M/F/M menage) But there was kind of a reversal of roles, which was really interesting, as our hero Shane struggled with his inner wolf while our heroine Megan was comfortable in her own skin. I felt so badly for how he grew up and how conflicted he was, thinking that to give in to his wolf meant to lose his humanity.
Even though I truly liked spunky Megan and thought she had a right to be angry that Shane wouldn't compromise at first, I felt like she should have coaxed him into her world and tried letting him see–slowly–that wolves weren't monsters. And the conflict between Megan and Shane and how stubborn they both were had me waffling between 3.5 stars and 4 stars for a rating. They both admittedly made mistakes, but by the end, that strong connection Megan and Shane had was crystal clear and was a great thing to see.
One of several books in the series that Lauren Dane has reissued recently, Bonded Pair was all about the give and take of relationships. While it may not have had the action/fight scenes that were abundant in some of the full-length books, this novella was filled instead with a wide variety of emotions and a sense of belonging between our protagonists.

Book Info:

Publication:  April 24th 2017 (first published August 19th 2008) | Carina Press | Cascadia Wolves #5
Previously published under a different title
A Cascadia Wolves novella
Megan Warden, Seattle's devoted Enforcer of the Cascadia pack, knows that she has a mate. Somewhere. She's just never found him. Then there he is at her cousin's wedding. Megan isn't just drawn to the werewolf's masculine, head-spinning scent—she's consumed by it. He seems so perfect, there has to be a catch…
With a successful practice in Las Vegas, Dr. Shane Rosario has lived outside the pack since he was born. Raised to hide his wolf in shame, he always assumed he'd marry a human.
Until Megan. Shane thrills to the ease with which she wears her wolf, and he craves every inch of her. But the idea of forever could be impossible. He's not willing to abandon his human life—even for a mate.
Something's got to give. Because this time, even destiny may not be enough to bind them.
This book is approximately 44,000 words