Off the Clock by Roni Loren: Marin Rush is desperately trying to make ends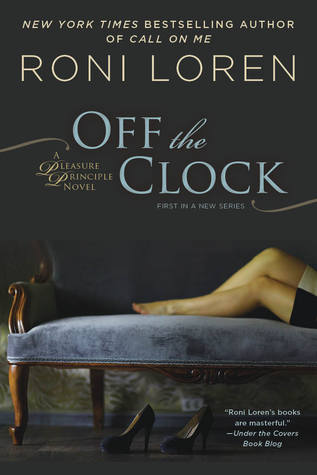 meet while working as a researcher in her post-doctoral position and raising her younger brother. When her brother is accepted at a prestigious art school, Marin knows that she needs more money to help pay for his schooling. She can't turn down an opportunity to work as a practicing sex therapist at The Grove, a private and cutting edge facility that caters to wealthy and celebrity clients.
Donovan West gained fame and notoriety with his earlier research. He's now heading up the sex therapy program at The Grove and is anxious for the promotion that will mean more time researching. He can be difficult to get along with and a workaholic who has no time for friends or a social life.
Both are shocked to see each other again and surprised that the attraction from nine years ago is still alive today. Both left a lasting impression and a lot has changed in the intervening years. One thing that hasn't changed is their passion for their research and helping others with sex. A lot is riding on Marin becoming a successful therapist, for both of them.
She trudged to her room and collapsed onto her bed. In one day, she'd managed to piss off a client, almost kiss her co-worker in front of his girlfriend, and get porn recommendations from her little brother.
She might not survive day two.
While they've agreed to keep their past in the past, they can't stop thinking about each other. Marin hasn't had a lot of time for dating, so she feels out of depth when counseling clients. She wants to broaden her experience so that she's more comfortable hearing about their client's experiences, problems, and desires. Donovan knows that he's not capable of a loving, committed relationship, but he's more than willing to have a fling with Marin under the guise of helping her.
"Let's get something straight, Rush. I've agreed to your terms, but here are mine. If you come over, you're putting yourself in my hands. That's the deal. And I will feed you if I want and taste you how I like and make you come in more ways than you can think of before this is all over with. So just be on time, bring your appetite, and I'll worry about the rest, all right?"
Off the Clock is a sensual and engaging story where second chances meet forbidden office romance. Roni Loren weaves the past and present together with great characters, an absorbing story, and unusual occupations into an intriguing start to a new series. Ms. Loren brings humor, banter, and office politics to balance out Marin and Donovan's individual development. Fans of J. Kenner, R.K. Lilley, and Shayla Black will enjoy Off the Clock.
Book Info:

Publication: January 5th 2016 | Berkley | Pleasure Principle #1
FROM THE NEW YORK TIMES BESTSELLING AUTHOR OF THE LOVING ON THE EDGE NOVELS, THE FIRST IN A SENSUAL NEW SERIES
Overtime has never felt so good…
Marin Rush loves studying sex. Doing it? That's another story. In the research lab, Marin's lack of practical knowledge didn't matter, but now that she's landed a job at The Grove, a high-end, experimental sex therapy institute, she can't ignore the fact that the person most in need of sexual healing may be her.
Dr. Donovan West, her new hotshot colleague, couldn't agree more. Donovan knows that Marin's clients are going to eat her alive unless she gets some hands-on experience. And if she fails at the job, he can say goodbye to a promotion, so he assigns her a list of R-rated tasks to prepare her for the wild clientele of The Grove's X-wing.
But some of those tasks are built for two, and when he finds Marin searching for a candidate to help her check off her list, Donovan decides there's only one man for the job—him. As long as they keep their erotic, off-the-clock activities strictly confidential and without strings, no one will get fired—or worse, get attached…
Exclusive to this edition only—a bonus short story