In After Love (Austin Heroes #1) by Kathy Clark, DEA agent Nick Archer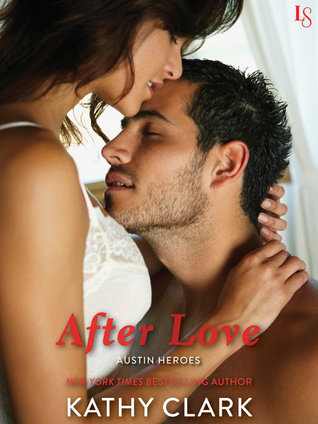 prefers to work alone. But when a drug bust goes awry, his boss insists he be assigned a partner – the K-9 kind. Still bitter after his divorce, Nick never expected a woman to ever capture his attention again for more than a fleeting moment. Yet, Jamie Chambers – dog trainer extraordinaire – tempts him in ways he never expected. If only he can convince her that they both deserve to be happy again.
Nick grimaced. "I'm Nick." He glanced down at his dog. "This is Harley."
The hostess laughed at the mix-up. "I thought Harley was an interesting name."
"Sorry about that." Jamie apologized. "I'm used to coming here with dogs, not men."
Ever since losing her husband in the line of duty, Jamie Chambers prefers to spend her time training dogs than finding herself another man to make her happy again. Yet, there's something about her new client that piques her interest, enough to propose an offer that will benefit them both, if he accepts.
Having read Deep Night, another book by this author that introduced readers to Nick, I couldn't wait to see him finally get his own story. And I've got to say that this first book in the Austin Heroes series, for Ms. Clark did not disappoint. It was fast-paced, riveting and drew me in from the very beginning, as Nick makes a bust that makes him look foolish and gets him in trouble with his boss.
Playful dialogue between Nick and Jamie certainly kept me entertained, and I loved every moment they were together as their banter increased the sexual tension between them, which finally spilled over onto the pages in smoking hot sex scenes, that did justice to their instant and intense chemistry. Yet, there were moments when Jamie annoyed me. She ran hot and cold when it came to wanting Nick, which made me feel sorry for the hero.
"What you see is what you get." Nick stated, familiar with the acronym.
"Exactly. They don't pretend, and they react on their impressions. We'll see if we can find you a perfect match."
"Match.com, doggie style."
I absolutely loved Nick. He's a bit of a rogue when it comes to his job, and it was understandable that his boss wanted him to have a partner. Because sooner or later, he was going to find trouble that he might not be capable, of getting himself out of without one. Yet, he's also smart, loyal, and has a very close bond with his family, especially his Grammy who is a total hoot. This scene where she's unrepentant for her rebellious ways made me laugh.
"Grammy, you're killing me," Nick said.
"I don't know what you're talking about."
"You've got a joint in your pocket, don't you?" Nick asked.
"I might," she admitted with an unapologetic grin.
"I'm a DEA agent, and Harley's a drug dog. What are we supposed to do with you?"
While Jamie, I couldn't help but empathize with her. She lost her husband in the line of duty, so it's not easy for her to get close to Nick, for fear that she might lose him in the same way. Then there's her love for her job, and her determination to match each of her clients with the right dog, which comes though loud and clear in the dialogue. She also has a close bond with her brother who has had a rough time after being seriously injured during his time in the military.
I loved this first book in a new series for Ms. Clark. Where the ending was hard on Jamie, yet made her realize that there are no guarantees in life when it comes to love. Towards the end, part of the story was written from the dog's point-of-view, which made for interesting reading as things could have ended up a lot worse, for the hero than they did, if it wasn't for Harley in that moment.
Overall, I am really looking forward to what happens next for this series, as Nick's brothers are the heroes in the following two books. I would recommend After Love by Kathy Clark if you love romantic suspense, or are a fan of Nora Roberts or Karen Robards.
Book Info:

Publication: January 19th, 2016 | Loveswept | Austin Heroes #1
For romantic-suspense junkies and fans of Nora Roberts and Karen Robards, bestselling author Kathy Clark kicks off her Austin Heroes series with a pulse-pounding tale of two wounded souls tempted by a dangerous proposition: new love.
DEA agent Nick Archer puts his life on the line every day. A former Marine, he fears nothing . . . except commitment. Nick has no trouble finding women eager to warm his bed, and no problem sending them on their way the morning after. Relationships don't mix with risky careers, a fact Nick learned the hard way after his marriage fell apart. He'd go it alone if it weren't for his new K-9 partner—and the stunning trainer who makes Nick sit up and take notice.
Just like her service dogs, Jamie Chambers knows how to sniff out trouble. From the moment Nick swaggers into her kennel, she knows he's heartbreak waiting to happen, and he wastes no time getting under her skin. Hell, he doesn't even like dogs. As a cop's widow, Jamie has felt the sting of loss in the line of duty, yet she recognizes something of her own pain in Nick's smoldering gaze. Jamie knows there are no guarantees in life. But a moment of pleasure, however fleeting, holds the promise of forever—and for that, Jamie's willing to take the plunge.