In OH, HENRY (OHellNo #2) by Mimi Jean Pamfiloff, Henry Walton has lived and breathed football since he was a kid. And now as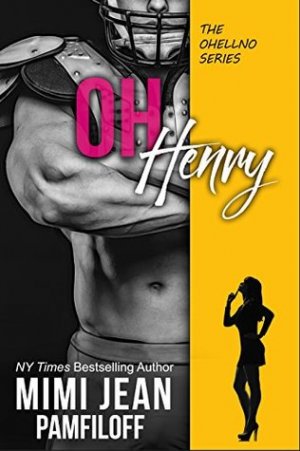 one of the biggest names in college football, the defensive end can see the NFL in his sights. But two things are holding him back. His father has been trying to derail his dreams from the start, doing anything in his power to keep Henry from succeeding. His newest challenge, though, is a sexy little brainiac named Elle who he can't keep out of his thoughts, on or off the football field. And the day she ends their steamy fling is the day Henry's game takes a hit. He can only figure out one course of action, which is to make amends with Elle so he can finish the season on a winning streak. But it turns out that the gorgeous geek with the big attitude is just as stubborn as Henry. All he has to say is: Game on, baby.
'I think I know why everything went south on me. It all started after nerd queen dumped me. And then, just like that, she shows up and I'm fine.
No. No. No. Ohellno. She can't be my lucky charm. I refuse to let her be.'
Elle knows she and Henry couldn't be any more different if they tried. She's a nerd down to her core, more interested in academics and Star Trek than in football or partying. But she can't gloss over the fact that they share mind blowing chemistry and have from the start. With her family life imploding and her own future plans to set in motion, Elle doesn't have the time for a relationship anyway. Henry hasn't seemed to get that memo, though. And she has to admit that the big, charming ogre is certainly trying to win her affection in some creative ways. Before Elle will agree to give Henry a real chance, she'll have to calculate the risks, weigh the potential outcomes, and trust in herself to make the right decision for both her head and her heart. Something she's not had good luck with in the past.
'But the moment I understood how similar he and I are, with our crazy walls and apprehension to trust, I realized the problem was never him. It was painful to admit, but it was always me.'
Quirky, hilarious and absolutely heartfelt, OH, HENRY is the latest in a string of superb romances by Mimi Jean Pamfiloff. This time it was nerd vs. jock in a no-holds-barred emotional smackdown to see who would come out the victor. (And I'm happy to say they both won!)
"I didn't know dating a human computer could be so hot. You got a laptop handy, 'cause I think I'd like to have a three-way."
"Ha!" I slap his arm. "Funny."
"Oh, no. I'm not joking." He rolls me onto my back and pins me down. "Talk nerdy to me, baby. Do some math out loud."
I truly had such a blast with this book. Not only was it filled with all the sexy-crazy-funny scenes I've come to expect from Mimi's work, but things between Elle and Henry didn't go as I expected them to and it kept me guessing until the end how it would turn out. I have to say that there was even a dark edge to some of the story, between Elle's tough past, being bullied and pushed around, plus a huge medical issue her family was dealing with. And even Henry wasn't immune from tough issues. His career in football was not what his father wanted for him and his dad wasn't afraid to resort to bribery or outright blackmail to get what he wanted. The end of the book also found Henry reeling after a shocking incident left him in charge of the family's many business ventures, leaving him to figure out how to handle it all.
Okay, so I have to admit that I love the whole jock vs. nerd thing. Book one in this series, Smart Tass, was a hoot and was based on this same idea, although Tass and Hunter's romance and background was of course quite different. But Elle and Henry had wonderful chemistry together. I adored that he loved how smart she was and that all of her many quirks just turned him on even more. Henry was truly and utterly smitten with Elle without even realizing it so it was fun to watch him recognize the depth of his feelings for her. And he was such a great guy! He might have come across cocky, with lots of swagger, but he cared deeply for Elle, his sisters and his friends, and would literally do anything for them. Even public humiliation wasn't a deterrent in winning Elle's love.
Elle was one cool chick. Well, a nerdy, geektastically cool chick. (Geektastically is totally a word, right?) She had me equally laughing at her fiery conversations with Henry and then near tears with what she had dealt with in her relatively short lifetime so far. I understood how being so academically advanced for her age pushed her to have to grow up quickly and she had to learn to protect herself as well. Plus with Elle's family's medical crisis, she was an emotional wreck most of the time. So with all she was going through, I got why she tried to push Henry away, but it didn't make it any easier to watch. But once Elle made up her mind on a course of action–including making things right with Henry? She was laser-focused and didn't give up. Gotta love that determination!
If you have a thing for witty bantering that's full of heat then I think you'll adore Henry and Elle's story. Filled with the twists and turns that Mimi's writing is known for, along with a mini cliffhanger, this was one book I simply couldn't put down.

Book Info:

Publication: August 25th 2017 | Mimi Boutique | OHellNo #2
From New York Times Bestseller, Mimi Jean Pamfiloff, Comes OH, HENRY, Book Two of the Ohellno Series.
(Stand Alone Story w/ Teaser for Next Book.)
SHE'S GOT ME BY THE FOOTBALLS…
My name is Henry Walton, and though I've been called many things throughout my life–tree trunk, moose, walrus–I am now six foot five, solid muscle, and the hottest defensive end in the NFL college draft. This is the moment I've been waiting for: fame, women, and glory.
Just one problem: I'm suddenly in a bad slump. And it started the moment I got dumped by Elle, the nerdy goddess with thick glasses, a smokin' hot body, and a genius IQ.
So what gives? We only dated for a few weeks, and it's not like I've missed her. (Much.) Regardless, all the facts point to one conclusion. Elle is my lucky nerd-charm.
So call me superstitious, but I have to get her back before I lose everything. Even if she's the last girl I should want and she now hates my guts.