Taking Home the Tycoon by Catherine Mann: There is certainly a mess in Royal Texas and the calvary has been called in to try and fix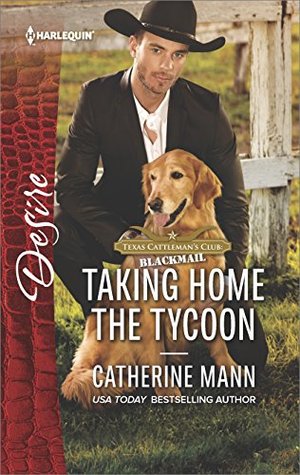 the issue.
Natalie Valentine was happy to help in whatever ways she could, but no one told her that she would have such and attraction to the calvary. She barely had time to breathe, between her children, running the B&B as well as designing wedding dresses. Now there was this guy, this amazing guy staying at her place.
Max St. Cloud was attracted to a single widowed mother? What was the earth coming to? He was in Royal for one reason and one reason only. That reason was not to get into Natalie's pants, it was to find the person terrorizing the town. Find them and make them pay, but with Natalie and her family worming into his heart, can he do what he was asked to do?
With these two there is no question that the heat is there, the question is more can they handle the long term?
Back to Royal we go in this novel by Ms. Mann. She has certainly given us a good reason to go back and more people to fall in love with. This is not a panty scorcher but more a feel good real time romance with just a touch of heat. From Natalie to her kids to Max Ms. Mann has given her readers real people with real issues a real way to fix/deal with them. This is a novel worthy of a multiple read, so start now.

Book Info:

Publication: September 1st 2017 | Harlequin Desire | Texas Cattleman's Club: Blackmail #9
Sexy cybersecurity guru Max St. Cloud's trip to Royal, Texas, is strictly business: he's here to expose a tech-savvy blackmailer. Falling for Natalie Valentine, the captivating widow who runs the local B and B, isn't on the agenda. Plus, Max isn't daddy material and she comes with two kids too many. So why does he rethink his bachelor status after one red-hot kiss?
Max's heart is damaged goods, yet Natalie can't deny her growing feelings. But will the recently widowed single mom go to any lengths to show the reluctant family man where he belongs?