Oh My Stars by Sally Kilpatrick: Laugh out loud funny and loaded with flawed, but adorably quirky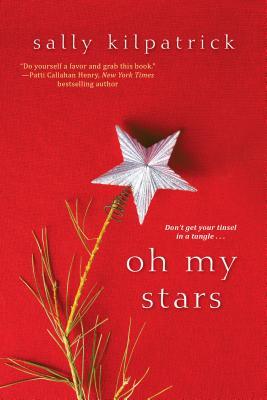 characters!
"And it came to pass in those days, that a decree went out from my mother that I would be playing the Virgin Mary in the Dollar General drive-through Nativity whether I liked it or not. Never mind the fact that my name was not Mary, that I was not a teen, and most importantly, not a virgin. Still decrees from my mother were similar to those from Caesar Augustus: both had to be obeyed."
Ivy used to write Regency period historical romance novels filled with drama and conflict, but always ending with a sigh worthy happily ever after. But, after her husband died, she's not been able to write a single word. She lives with her mother, and her sister, Holly, and now works at the Dollar General.
Gabe, a big city doctor who is being sued for negligence in the death of one his young patients, has returned to his father's small town to stay for a while, calling it a sabbatical. He soon meets Julian, a man living with his father, supposedly to help out on the farm while he recovers from hip surgery. Gabe realizes, rather resentfully, that Julian and his father have a great relationship. In fact, it's the type of relationship he wishes he could have had with his father. But, Gabe is suspicious of Julian's motives.
But, when Gabe is cast as "Joseph" alongside Ivy, as "Mary", the sparks begin to fly. They hit it off right away, but when they find a living , breathing infant in the manger, things quickly become complicated.
Meanwhile, Ivy copes with Holly's insensitivities, and her mother's favoritism. But, when Ivy sets her eyes on baby 'Zuzu', she also set her heart on keeping her. But, she could be setting herself up for even more heartache. But, as Christmas approaches, Ivy is determined to capture the spirit of the season, even if it means using those god awful fake Christmas tree icicles.
I was instantly captivated by this story as I tried to envision Ivy and Gabe in their costumes bantering back and forth as they gritted their teeth against the uncomfortable positions they were forced to maintain.
However, as zany as this premise is, there are some serious topics addressed, including various addictions or coping mechanisms Ivy, her mother, and her sister resort to in times of stress. Secrets and revelations come to light as well. Some of them will cause pain, but will also pave the path to understanding and forgiveness.
Some of my favorite scenes are with Julian and Gabe as the city boy is pitted against the country boy with all those animals in the background adding to the hilarity.
The underlying melancholy that haunts Ivy is poignant and the challenges she still must face are heart wrenching and lead to a few 'grab the tissues' moments. But, the holiday spirit might intervene to soften some difficult choices, helping to restore her faith in love, and just might bring Ivy her a long overdue happily ever after.
This is a really sweet holiday themed romance everyone can enjoy!!
Book Info:

Publication: 9/25/2018 | Kensington |
A heartwarming, hilarious Christmas story with a Southern twist.
Like most things in Ellery, Tennessee, this year's Drive Thru Nativity is a little unconventional. The Dollar General parking lot doubles as a Bethlehem stable, and widowed writer Ivy Long, who's been roped into playing Mary, sure as heck isn't a virgin. But then comes an unexpected development: a genuine, real-life baby left in the manger, with only a brief note. And somehow, in the kerfuffle that follows, Ivy finds her life is about to
change . . .
The holidays are a bittersweet time for Ivy–filled with memories of her beloved late husband and reminders that life doesn't always offer the happily-ever-afters her readers expect. So when Ivy ends up with custody of the baby, she can only chalk it up to a Christmas miracle. She doesn't know if it will be forever, but with help from family, she'll make little Zuzu's first Christmas a good one. The nativity's Joseph, aka Gabe Ledbetter, has a pediatrics background that's coming in mighty handy. In turn, Ivy is helping Gabe find his place in the quirky community. If that place turns out to be somewhere near Ivy, well, maybe this particular Christmas story will turn out to be merry and bright after all . . .