In Sin and Ink (Sweetest Taboo #1) by Naima Simone, Knox holds so much guilt inside over the death of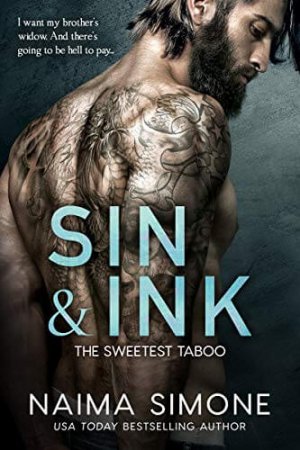 his brother. Even more, he's been in love with his late brother's wife for years and has done his best to stay away, but now it's getting harder and harder to keep his distance. Will Knox and Eden be able to overcome the obstacles they face to be together or will the pair walk away from each other before their relationship tears a family apart for good?
"You just do it and brace yourself for the fallout." His eyes narrow on me. "Are you ready for this, Eden? To move out and live on your own?"=
If it'd been anyone else asking, I might take offense. Might, hell. I would definitely take offense. Just the suggestion that I'm weak, that I can't fend for myself, support myself set my teeth on edge. I've survived what most people have only seen on Lifetime movies – a drunk father and not-all-the-way-there mother, homelessness at eighteen, the death of my husband.
Ms. Simone never ceases to amaze me with her books and this first book of her Sweetest Taboo series is an absolutely enthralling, fast-paced, steamy read encompassing the forbidden romance trope because the heroine is the wife of his late brother; compelling dialogue that had me loving the main characters back stories, the tension between the main characters and the obstacles they face to be together; and wonderful main and secondary characters that kept me entertained from start to finish, even though I couldn't decide whether I liked Eden at the start or not. Still, I warmed up to her, especially when she finally does something right by the man that helped her through the toughest time of her life. How could she not stand up for Knox when it comes to the way his mother treats him? How can a mother say the horrible things that she does to him?
With the main characters, Knox is one of Ms. Simone's best heroes yet. He's sinfully sexy with being an ex MMA fighter and now Tattoo artist. He's confident; charming when he wants to be; and very good for Eden, which is proven by everything he's done for her in the past and the present when it comes to helping her heal from her loss. Yet, I couldn't help but sympathize with him when it comes to his guilt over what happened to his brother and how his mother blames him for Connor's death. How could his mother be so cruel? While the heroine, it did take me a while to fully warm up to her, but I really liked her in the end. She continually surprised me throughout this story with her resilience and courageousness. Because she's ready to move forward from her grief and I liked the decisions she made, even though she realizes how much it could hurt those she's come to love in Knox's family. Will Knox's siblings and parents support her decisions?
"I know you might not want to hear that from me." She laughs, the sound light, nervous. "You might not want me to be here. And I get that, but I still had to take a chance because," she pauses, drags in an audible breath, "because you're worth that chance. You're so worth it."
Overall, Ms. Simone really impressed me with this book, which has me looking forward to more of the Gordon family because I loved Knox's brothers as much as I did Knox; and where the chemistry between Eden and Knox was tangible and intense; the romance was fan-your-face hot, as Knox loves to be in control; and the ending had me loving the heroine's determination to fight for a future with Knox because he's worth everything she'd face to be with him. Will a family be divided for good? I would recommend Sin and Ink by Naima Simone, if you enjoy the forbidden romance trope or books by authors Tessa Bailey, Carmen Falcone, Taryn Leigh Taylor and Cherrie Lynn.
Book Info:

Publication: October 15th, 2018 | Entangled Publishing | Sweetest Taboo #1
There's sin, and then there's literally going-straight-to-hell sin…
Being in lust with my dead brother's wife pretty much guarantees that one day I'll be the devil's bitch. But Eden Gordon works with me, so it's getting harder and harder to stay away. I promised my family—and him—I would, though.
My days as an MMA champion are behind me. But whenever I see her, with those wicked curves and soft mouth created for dirty deeds, it's a knock-down fight to just maintain my distance. "Hard Knox" becomes more than just the name of my tattoo shop. However, surrendering to the forbidden might be worth losing everything…