On the Edge of Scandal by Tamsen Parker: Ash has feelings a coach should never have for one of his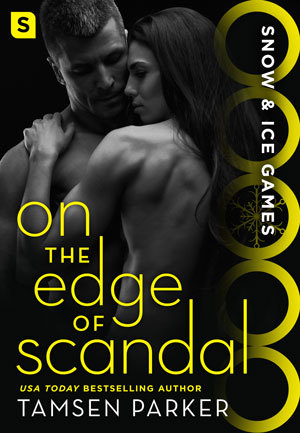 players. He can't get his mind off Bronwyn, one of the members of the women's hockey USA Team for the Snow & Ice Games he's coaching. Normally, she plays for an opposing university from Ash, but now he's dealing with her day in and day out.
After a brutal, and very public, breakup with her not-so-nice boyfriend, Bronwyn leans on Ash to help her through the rest of the competition. He's always been a favorite coach of hers, but as she gets to know him more, she sees beyond the coach.
Although Ash isn't that much older than her, and Bronwyn is graduating in just a few months, neither would make it through a scandal and still be able to take part in the sport they love. But when murmurs come out about Ash behaving inappropriately towards his players, this connection may be over before it was ever fully realized.
I actually quite liked this romance. I did have my issues with it, but the tension was high and Bronwyn and Ash had a lot of sparks. I'll admit I love the masculine man, and this author does not give me enough of that.
Ash felt a little too emasculated – there was a lot of focus on his injury and inability to move as well as him being less physically big or attractive as other men – and I found that hard. Given their status difference – coach and player – I feel the author may have been trying to equalize them, perhaps. I'm not sure, but it annoyed me more than anything.
Mostly, though, I loved them together, and I didn't even mind the breakup aspect too much. The romance had good and quick pacing, and I'm left wanting to read more of this series.
Book Info:

Publication: February 6, 2018 | Swerve | Snow & Ice Games #3
Bronwyn Perry is the star of the US women's hockey team, and she and her boyfriend Brody Hill have been hockey royalty since they've been in high school. Brody unexpectedly fails to make the men's team but still comes to Denver to support his girl at the Snow and Ice Games. Or so Bronwyn thinks.
Ash Levenson is the coach of the women's SIG hockey team. His primary responsibility is to keep his team happy, healthy, and primed to win. Though he's close in age to his players, he's been doing this for a while and mostly, it's easy to keep his eyes on the puck. He's always been able to discard any crush he might have on any of the women he's coached…until Bronwyn.
When Bronwyn and Brody's romance comes to a very public and very ugly end, Ash has to get his star player's head back in the game and ready to dominate on the rink. Which may mean spending a little time off the ice…