A Princess in Theory by Alyssa Cole is the first story in her Reluctant Royals series. It's a sexy contemporary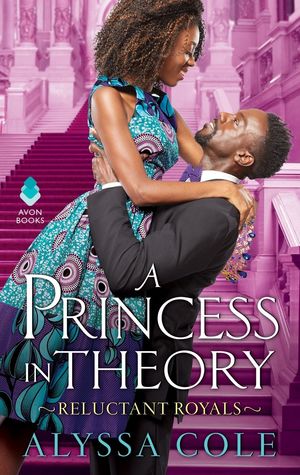 romance about a hard working scientist heroine and a prince looking for his dream girl.
When Naledi Smith's inbox keeps getting emails from an 'African Prince looking for his long lost bride' she does what any forward thinking woman does – sends them to the recycle bin. She's a full time graduate student in epidemiology, working two jobs as a lab assistant and a waitress and she has no time for fairy tales. A child of the foster system, she's learned to rely on herself and doesn't hold out for any kind of prince charming.
Prince Thabiso of Thesolo has been looking for his childhood betrothed for years. When she's tracked down in New York, an innocent mixup has her believing he's the new hire at the restaurant, a comedy of errors that ends with him being fired. But now that he's found her, he's not going to give up so easily He arranges to stay in an apartment in her building, a 'coincidence' Naledi finds somewhat suspicious but takes in good faith and they develop a friendship with an undercurrent of desire that leads to some steamy nights together. But when Naledi finds out the truth about Thabiso will their fledgling romance end in a not so happy ever after?
What a delightful romance! I enjoyed everything about this story, starting with the emails Naledi receives that set the stage to the development of the romance between Naledi and Thabiso that goes through its fair share of ups and downs as they learn more about each other. Thabiso's secret is revealed part way through the story, when Naledi has already come to care about him and it puts their relationship back a notch until he can prove that he is trustworthy and truly apologetic for his deception.
The scientific aspects of Naledi's character are well done and delve into the difficulties females encounter in STEM studies (I know, because I'm a scientist myself), but also the extra challenges of being African American and having to work that much harder to gain recognition. Naledi has the added stress of being a foster child whose parents died in a car accident when she was quite young and having no family to take her in. She doesn't know that her parents were friends with the ruling family of Thesolo or why they fled the country. When Thabiso enters her life and she finds out the truth, it literally opens up a whole new world for her. Part of the story is set in Thesolo, and there is some excellent worldbuilding in this fictional African country with its own set of cultures and traditions.
Thabiso has the weight of a country on his shoulders and this forms many of his actions. Doing what's right for his people is a challenge when he's up against those willing to do anything for money and power and part of this story delves into the politics of Thesolo and the expectations of his royal parents. Falling in love with Naledi certainly complicates things when she doesn't turn out to be biddable bride material but rather a self sufficient, intelligent, and forthright woman who pulls no punches.
Naledi has a best friend, Portia, who tests the boundaries of that friendship on a continual basis, with a penchant for drinking too much and making poor decisions. They have their own share of ups and downs in this story, and I enjoyed reading about this female friendship. I'm especially looking forward to the next in the series, where Portia will get a chance to find her own happy ending.
The attraction between Naledi and Thabiso starts from their first meeting and leads to some steamy scenes between them. There's clear consent asked and given and with this author, consent is sexy! A Princess in Theory has a fun and modern premise, captivating and realistic characters with all too human flaws, features an interesting and unique African country and layers it all in a sexy and unique contemporary romance.
Book Info:

Publication: Feb 27, 2018 | Avon | Reluctant Royals #1
From acclaimed author Alyssa Cole comes the tale of a city Cinderella and her Prince Charming in disguise . . .
Between grad school and multiple jobs, Naledi Smith doesn't have time for fairy tales…or patience for the constant e-mails claiming she's betrothed to an African prince. Sure. Right. Delete! As a former foster kid, she's learned that the only things she can depend on are herself and the scientific method, and a silly e-mail won't convince her otherwise.
Prince Thabiso is the sole heir to the throne of Thesolo, shouldering the hopes of his parents and his people. At the top of their list? His marriage. Ever dutiful, he tracks down his missing betrothed. When Naledi mistakes the prince for a pauper, Thabiso can't resist the chance to experience life—and love—without the burden of his crown.
The chemistry between them is instant and irresistible, and flirty friendship quickly evolves into passionate nights. But when the truth is revealed, can a princess in theory become a princess ever after?