In On the Rocks by Erin Duffy, What's worse than your fiance breaking up with you? Having your best friend read it on your fiance's Facebook page. And then have to tell you about said breakup. While you're standing in a dressing room in the wedding dress of your dreams. Such is the nightmare that is Abby Wilkes' life when Ben announces he's leaving her for a job in Arizona. Left behind in Boston, Abby's sure he'll come to his senses, realize the mistake he's made, and come back begging her for forgiveness. But as days turn into weeks, the only thing Abby becomes sure of is that she should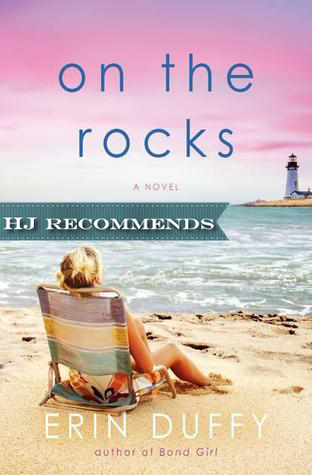 by stock in Ben & Jerry's ice cream company. Because that seems to be her only companion these days.
'Apparently, life did not stand still for everyone else just because my own world had stopped spinning, and that's exactly how it should have been.'
Being a kindergarten teacher means Abby will spend an entire summer wallowing in self-pity. So her best friend Grace finally convinces her to leave the house and spend a few months in Newport, Rhode Island, relaxing and perhaps getting back into the dating scene. With Grace's friends Bobby and Wolf in tow, Abby forces herself to mingle with mixed results. Who knew it would be so difficult to meet normal men? And when did social media become the determining factor in figuring out if someone is datable or not? As Abby sorts out her life, friendships are formed and tested while everyone deals with the ups and downs of modern relationships.
"Our generation's idea of a love letter is a late-night drunk text asking if you have any more beer in the fridge. You heard it here first, kids. Romance is dead."
On the Rocks is a novel that takes a bad situation, adds some beachy fun, a lot of snark, and a few disastrous dates, to create a story that I just couldn't put down.
'Apparently, I couldn't even give praise to a member of the opposite sex without eliciting some sort of adverse reaction. I should come with a warning label and an epi-pen.'
Oh what fun I had reading this! Erin Duffy's writing style was just a joy to behold. The chapter titles were hysterical and the situations the characters got themselves into made me read until my eyes were bleary. And although this began on a low note with Abby's breakup, I thought the theme was really more about friendship, turning the tone of the book much more positive by the ending.
Abby went through so many changes here–some positive, some not so much. I thought this was a pretty honest look into the life of a woman in her thirties who gets thrown back into the dating world. Ms. Duffy brings up some very relevant points about how much social media has changed how people date now, which were highlighted in some intense and uproarious debates between Abby and Bobby. The bit about Google-stalking made me laugh until I realized people probably really do that on a regular basis. Now I can see why Abby thought it was both creepy and foolish. lol
Beyond the jokes and sarcastic comments, I loved watching Abby's metamorphosis into a functioning adult again after her breakup. Seeing her not only get back out into the world, but to get to a place where she could finally be there for her friends and family made me smile. None of the characters got out of the summer without some kind of issue having taken place: Grace, Bobby, Wolf, and Lara. And the way their problems all overlapped made it a very engrossing plot.
I'm a fan of well written chick lit, and On the Rocks more than qualifies. My only gripe? I want to see what's next for Abby and her raucous group of friends! This is definitely an engaging story worth reading.
Book Info:

Published April 22nd 2014 by William Morrow
A heartwarming novel about friendship, family, and finding love in the Facebook Age-the perils, pitfalls, and dubious pleasures of being a modern young single woman-from Erin Duffy, the author of Bond Girl
Six months ago, Abby's life fell apart for all the world to see. Her longtime boyfriend-turned-fiancé, Ben, unceremoniously dumped her-on Facebook-while she was trying on dresses for the big day.
When the usual remedies-pints of Ben & Jerry's, sweatpants, and a comfy couch-fail to work their magic, her best friend, Grace, devises a plan to get Abby back on her game. She and Abby are going to spend the summer in Newport, in a quaint cottage by the sea, enjoying cool breezes, cocktails, and a crowd of gorgeous men.
But no matter how far away they go, Abby and Grace discover that in the era of social media-when everyone is preserving every little detail of their lives online-there is no real escape. Dating has never been easy. But now that the rules are more blurred than ever, how will they find true love? And even if they do, can romance stand a chance when a girl's every word and move can go viral with a single click?