In On the Rocks by Kim Law, Ginger is searching for what she desperately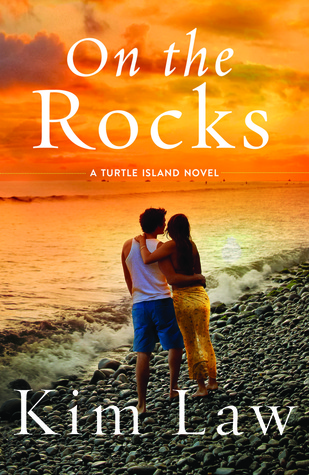 wants–a man to build a family with. She even starts to build her dream home, but stops construction because she's waiting for the perfect man. Everyone around her, including her mother, is falling in love and having families of their own, and she can't help but be envious of them.
Carter comes home to look out for his pregnant sister at his mother's insistence. The last thing he wants is to be back on Turtle Island–he'd rather be holed up in his house, being bitter at his ex-wife and the way his marriage ended.
Ginger and Carter had been best friends when they were children, and they gradually rebuild their friendship. He encourages her to finish her house, a house he even falls in love with himself. In fact, he often sneaks in to use one of her rooms to write his latest novel in. Meanwhile, Ginger wants nothing more than to help him get rid of all the anger he has, offering to be a supportive shoulder to lean on. When they mutually decide to get together, both agree that's it's best for their friendship if it wasn't permanent. Ginger feels Carter is too angry to be in a relationship while Carter doesn't ever want to get married again after what his ex did to him.
I liked Ginger and Carter together. Whereas Ginger felt she had to change herself for all the men she was dating, Carter never expected her to. He didn't want her to, either. He appreciated her the way that she was, and encouraged her to realize that if the guys couldn't accept her that way, then they didn't deserve her. Ginger, for her part, forces Carter to open up about his relationship with his ex-wife, knowing that it was the only way he would be able to release the anger and move on. She knows just when to push him and when to back down when things became too much for him.
On the Rocks is the third book in the series but it can be read as a stand alone. A couple of the characters from the previous books do make appearances in this one, but the author provides just enough background information to quickly fill the reader in on who the people are so they don't feel lost. Having read the previous two books, I can say it was nice to catch up with Andie and Roni and see what has taken place in their lives.
Kim Law has written a book that speaks to a simple truth–you can't expect other people to bring you happiness. Ginger and Carter both had to learn to be happy with themselves before they were able to move on to find happiness with one another.
If you enjoy books about old friends reuniting to become lovers, I suggest giving On the Rocks by Kim Law a read.
Book Info:

Publication: January 12, 2016 | Montlake Romance | Turtle Island #3
Sassy tomboy Ginger Atkinson would rather be captaining a deep-sea fishing boat than baking pies, yet she still wishes she had a man to bake for. Sure, the pretty redhead is happy running her late father's Turtle Island ferry business, but everyone in the world is finding love except her. Stuck on the wrong side of thirty, she's trying to accept singlehood by building a dream home—for one.
In high school, Carter Ridley loved to sneak off with his good friend Ginger to watch the sun rise over the ocean. But after graduation, his path took a different route. One that, unlike Ginger's, did get him the spouse and house of his dreams. At least, until a scandal shattered everything.
Running from his heartbreak, Carter returns to Turtle Island, where he discovers that Ginger is all grown up. His teenage friend has become the woman he's always wanted. But will Carter's pain scare him away from a chance at happiness? Or can he be the loving partner Ginger's been looking for?