In Love and Always (A Pound of Flesh #1.5) by Sophie Jackson, Kat Lane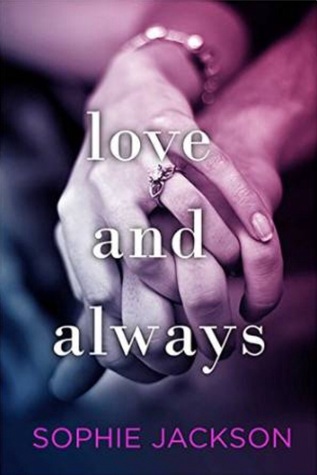 is overjoyed with her life now. She has a fulfilling job her father would be proud of. And most importantly, things couldn't be better with her boyfriend Wesley Carter. He may be a successful CEO now, but he'll always be the tattooed, foul mouthed bad boy who saved her life. Christmas brings Kat one more surprise: an engagement ring. She wants to shout from rooftops over her happiness but is afraid that once her mother finds out, even though she's more than old enough to make her own decisions, things won't be so joyous anymore.
'He thought little of the money that allowed him to live the life many envied, and thought little of giving it away. His unthinking kindness and generosity were what Kat loved most about him. Well, that and his dirty mouth.'
Popping the question had Carter all in knots until his Peaches, Kat, happily said yes. Then he realized that announcing their good news would not go over so well with everyone. One person being Kat's mother who is not his biggest fan. The other is his best friend Max who is in rehab and having a tough time of it. Carter will do anything to keep his fiancee safe and happy. He just hopes any issues will blow over quickly so he can get to the celebrating part right away.
'Regardless of the fact that he and Kat had been together for as long as they had and all they'd been through, Carter still had trouble believing that she had chosen him.'
Love and Always was a brief novella, almost like an epilogue, continuing one of my favorite new finds of the year, A Pound of Flesh. Kat and Carter were their adoring, blissed out selves in this segue into book two which will focus on Carter's BFF Max.
This was a really quick read that caught us up on where Carter and Kat are in their relationship currently. That being said, you would definitely want to read book one first or this will make no sense at all. I think for Sophie Jackson fans, though, this short story will both appease for the time being, while it leaves us wanting to see how the wedding plays out and how Max does in rehab. It will be a few months yet before we get more answers, as the book two release is currently set for January 2016.
Kat and Carter were basically transitioning into the next step in their relationship, to that of being engaged. Our happy couple may have been on top of the world, but as expected, others among their family and friends weren't so pleased. The drama thankfully wasn't angsty, instead playing out in an adult manner and with Carter and Kat having each other's backs in all matters. Of course there were also some super sexy scenes as one would expect from a couple that has such intense chemistry. I'm glad they didn't lose that edge of fun and sensuality that made book one such a good read.
A gratifyingly succinct story but an emotional one, nonetheless, Love and Always had me cheering for our hero and heroine once again and waiting to see what's next in this series.
Book Info:

Publication: Published August 3rd 2015 | Pocket Star | A Pound of Flesh #1.5
Orange Is the New Black meets Jennifer Probst's New York Times bestselling Marriage to a Billionaire trilogy, in this e-novella of love and redemption in the sensational A Pound of Flesh series.
When prison tutor Kat Lane met arrogant inmate Wesley Carter in A Pound of Flesh, it was hate at first sight. Carter's quick wit and reputation for being as dangerous as he was handsome kept her at a distance. But as they grew to know each other as teacher and student in the New York prison, Kat found there was much more to Carter than she thought.
In Love and Always, Kat and Carter's story continues as they share the news of their engagement—which doesn't go over well with Kat's mother. On top of it all, Carter has a new role as CEO of WCS Communications, which adds more pressure to his new life outside prison. Trying to juggle family, a billion dollar business, and Carter's best friend Max's rehab stint doesn't leave much time for the happy couple to enjoy each other. How will Kat and Carter handle the pressures of marriage, family, and work—and keep the passion alive through it all?