Once Upon a Kiss was a gem of a novel by Jayne Fresina. I had expected that a book 'inspired' by Jane Austen's "Pride and Prejudice" would be very much like most books inspired by classics turn out to be—a pleasant read but not extraordinary. This book defied my expectations, and was lovely, sweet, and a pleasure to read.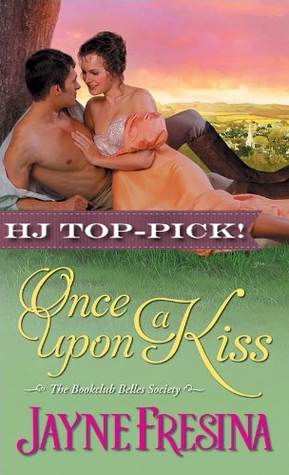 Justina Penny is a high-spirited trouble magnet of a girl living in Hawcombe Prior, a small rural town far from London. Her older sister Catherine is considered to be a beauty, and her mother expects Catherine to make a fine match. Justina, on the other hand, is a bumbling sweetheart of a girl, always putting her foot or mouth wrong but also always going out of her way to help a friend or stranger, and no one, except maybe her father, the town doctor, expects too much of her. She also has the rather endearing habit of writing down everything that she has done wrong on a nightly basis. One evening, during an ill-planned rescue of a friend's pet pig, she encounters Mr. Darius Wainwright, who happens to be the new owner of Midwitch Manor, and tumbledown estate in Hawcombe Prior. Darius is reserved, elegant, and aloof, and Justina has an unfortunate history with him—they had met before, and under difficult circumstances.
Suddenly he closed his eyes and saw a flash of stockings with pink silk garters….Dear God. It couldn't be. Not again. He opened his eyes. She was watching him, hands on her waist. It was her. The lunatic assailant of Bath.
Underlying the whole story, of course, is the parallel story from "Pride and Prejudice" which Justina and her friends 'The Book Club Belles' are reading aloud and are slightly obsessed with. Of course, many comparisons are drawn, some obviously marked upon and some allowed to be more subtle. It isn't a stretch of imagination to see that Darius is the 'Mr. Darcy' stand-in, and Justina enjoys teasing her sister about this point. Justina, on the other hand, frequently remarks that she finds Mr. Darcy boring, and that Wickham would be much more to her taste.
"I still prefer Mr. Wickham," snapped Justina. "He is ten times more fun than that old windbag Darcy."
Despite the fact that Darius and Justina are completely different people, they are inexorably drawn to each other. The sparks they throw off each other are the type that ignite, and Justina's outgoing yet caring nature is exactly what Darius needs. The questions remains, can they survive youthful indiscretions, starry-eyed young ladies, marriage minded mamas, and the perfection of fictional heroes to find their happily every after?
As mentioned, this is a lovely book. The characters are sparkling, and Darius and Justina are marvelous, unforgettable characters. There is some wonderful character growth, and both Justina and Darius are changed for the better by the end of this book. The "Pride and Prejudice" component doesn't dominate, but is used a touchstone and as a 'compare and contrast' between the "Pride and Prejudice" characters and the 'real' people who inhabit "Once Upon a Kiss." It's very well done, especially in moments where Justina realizes that life and novel are not the same.
Oh, poor, innocent Cathy, she thought, feeling so much older and wiser. With a head already turned by the fantasy of Mr. Darcy, her sister was ready to fall, mooneyed, over the first man who bore slight resemblance to the character. Romantic novels had much to answer for.
I enjoyed this book, highly recommend it, and hope you enjoy it also!
Book Info:

Published June 3rd 2014 by Sourcebooks Casablanca
n the sleepy village of Hawcombe Prior, five young ladies of the local book society are reading a salacious romance called Pride and Prejudice. Upon finishing the book, the ladies race to find their own Mr. Darcy, and the handsome, mysterious Darius Wainwright is the perfect mark.
Justina Penny can't understand why her fellow Belles are starry-eyed in the newcomer's arrogant presence. But if the town's only eligible bachelor marries anyone, it should be her sweet, beautiful sister. And it's up to Justina to make it happen. How could this plan possibly go wrong?