One and Only by Jenny Holiday took me by complete surprise. I fell in love with this story very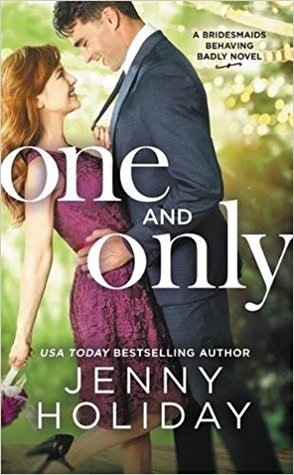 quickly didn't want it to end. Not only is the cover lovely, but the story inside is one for the ages. With witty dialogue, two opposites attract in a one-of-a-kind, worthwhile romance that anyone can appreciate.
Jane Denning's friend is getting married, making her a bridesmaid. Since Jane is the responsible one, the bride gives her the task of babysitting the groom's brother. Apparently, he has a bit of a reputation for being wild and out of control and needs a babysitter.
Cameron MacKinnon was just kicked out of the Canadian Forces and is ready to let loose. He plans on doing things he wasn't able to do while he was serving, including picking up a woman and getting laid. When Jane meets him at the airport, he knows he's in trouble. It's obvious that his brother and his future sister in-law doesn't trust him and they sent Jane to babysit him. He plans to ruffle her feathers a bit, while living up to the reputation that his family thinks he still maintains.
As Cameron and Jane spend time together on behalf of the bridezilla, they both find something in each other that appeals to them. Cameron gets Jane to let loose and Jane discovers what kind of man Cameron really is. It doesn't take long before sparks fly.
"Are you impugning my manhood?"
She shook her head. "Oh, no. I would never do that. I've seen your manhood."
Cameron's first impressions of Jane aren't very nice and it takes a bit to fall for his charms. Even though Cameron doesn't endear me to him in the beginning, that changes once he shows Jane the real side of him. Both, Jane and Cameron had rough childhoods and had to grow up sooner rather than later, making them alike in some ways. Different in others. Cameron is fun whereas Jane is reserved and needs to loosen up. Together, they complement each other in ways they didn't know they were missing.
One and Only is well-written and completely charming. It's definitely going on my keeper shelf, so I can read it again when the mood strikes. Contemporary romance lovers will rejoice in this must-read romance filled sparkling dialogue and unforgettable characters.

Book Info:

Publication: February 27th 2018 | Forever | Bridesmaids Behaving Badly #1
In this laugh-out-loud romantic comedy, USA Today bestselling author Jenny Holiday proves that when opposites attract, sparks fly.
Miss Responsibility meets Mr. Reckless
With her bridezilla friend on a DIY project rampage, bridesmaid Jane Denning will do anything to escape–even if it means babysitting the groom's troublemaker brother before the wedding. It should be a piece of cake, except the "cake" is a sarcastic former soldier who is 100% wicked hotness and absolutely off-limits.
Cameron MacKinnon is ready to let loose after returning from his deployment. But first he'll have to sweet talk the ultra-responsible Jane into taking a walk on the wild side. Turns out, riling her up is the best time he's had in years. But what happens when the fun and games start to turn into something real?