In The Doctors' Baby Miracle by Tina Beckett,Tucker and Kady went their separate ways after losing their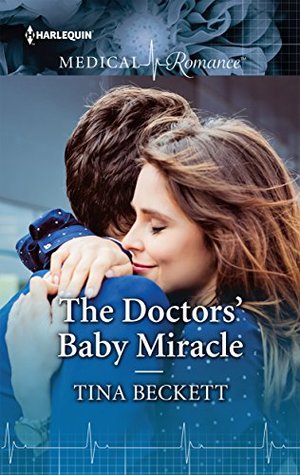 child to illness, but when they come face-to-face again, their feelings for each other are still as strong as ever. But with Kady wanting another child and Tucker making a decision that prevented that chance, there's no way they'll ever be happy again. Or is there? Will Kady be able to trust Tucker again after everything he put her through, or will she walk away for good this time?
Her smile grew. "There are only a few more days left of the conference. Surely we can keep our 'handlings' to ourselves."
"I'm pretty sure about me, but you…?" One side of his mouth went up in the devastating smile he wore so well.
Ha! She wasn't confident about herself either. "Are you saying I might not be able to control myself?"
"I'm saying I know you can't."
This was a highly emotional but entertaining read that had me smiling and almost in tears at various times throughout, as decisions were made that tore these two apart because they lost a child. Really, the hero didn't handle the loss very well and I could understand why it was so hard to be confronted with the past when they both were trying so hard to forget and move on from what happened to their child. Will the heroine be able to forgive the hero? Will they be able to find their way back to each other when the heroine wants another child while the hero doesn't?
Both the main characters were relatable, likeable and I loved every interaction between them, as there's still plenty of love and chemistry between them. And certainly, there's plenty for the pair to work out because of how things went awry in their marriage, but I liked how they overcame the obstacles keeping them apart including the fact that the heroine wanted another child; and the knowledge of what the hero did that would keep him from ever giving her what she wanted most. Will the heroine be able to handle the truth of what Tucker did?
As for the heroine, the hero put her through so much and I couldn't help but feel sorry for her. However, in saying that, she's resilient, courageous and I liked how determined she was to have another child. I also liked how good of a doctor she is and that she would do anything to make her patients relaxed and safe, which is proven by what she does for a patient. While the hero, he made a really drastic decision that had a major impact on his and the heroine's marriage. Will he ever be able to go back and change what happened? Will the heroine be able to understand why he did what he did? I also liked how determined the hero was to win the heroine back, because there's something so special about this pair together that they shouldn't let anything keep them apart.
"You are a very bad man."
He chuckled, making no move to pull away and separate them. "I thought women were drawn to bad boys."
"There is bad and then there is bad."
"And which one am I?"
"I haven't decided yet."
He rolled over, drawing her with him. "I can be as bad as you want me to be. Or as good."
Overall, Ms. Beckett has delivered a wonderful and engaging read in this story where the ending had me hoping for the best for this couple, as Tucker needs to come to his senses when it comes to the heroine wanting another child. Will he be able to give her what she wants? Will he be able to handle the way she plans to have another child? However, it was the epilogue that wrapped this story up perfectly because these two are meant to be and there's something so great about love, family and happiness. I would recommend The Doctors' Baby Miracle by Tina Beckett, if you enjoy stories where divorced couples find their way back to each other or if you enjoy books by authors Amy Ruttan, Annie O'Neil, Amalie Berlin and Susan Carlisle.
Book Info:

Publication: March 1st, 2018 | Harlequin Medical |
Losing a baby tore them apart…
Can having another reunite them?
Losing their daughter left doctors Tucker and Kady heartbroken and when he couldn't face trying for another child, it left their marriage in pieces. When they meet again at a medical event, their memories are reawakened—along with their scorching chemistry! But Kady still longs for a baby, and Tucker must finally face his fears if he's to find happiness with her again…