In One Day in December by Josie Silver, It is at one of the most bleak moments in Laurie's life when she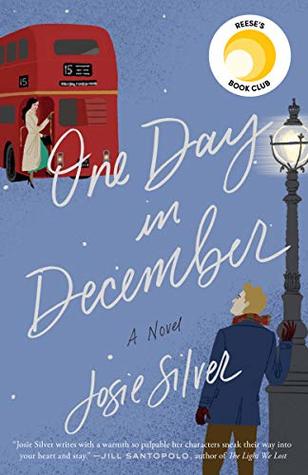 falls in love. One minute she's staring out the window while sitting on the top level of a double-decker bus, looking out at the cold English day, and then she locks eyes with the most handsome man she's ever seen. Only to watch as their connection slips through her hands when her bus pulls away. Laurie is not one for overly romantic notions. But she spends the better part of the next twelve months keeping her eyes open for her Bus Boy.
'From now on, if anyone asks me if I've ever fallen in love at first sight, I shall say yes, for one glorious minute on 21 December 2008.'
Unfortunately, when next they meet, Bus Boy, aka Jack, has become entangled in a romance with Laurie's best friend Sarah. And that puts Jack strictly off limits. But as the years pass by and each of their lives change in many ways, fate keeps bringing Jack and Laurie into each other's orbit. It never seems to be the right time for them to explore the unique chemistry they have–or to see if they can move beyond their tenuous friendship. It leaves Laurie to wonder if she's destined to forever be on the outside or if she'll find someone to love and adore her–even if it isn't Jack.
'I slump and close my eyes, wondering if there will ever be a time when it feels like all the pieces of my life are in the right place.'
One Day in December is the type of romance novel destined to make it to the big screen. With relatable, quirky characters, an over the top premise that totally worked, and even a bit of a love triangle, Josie Silver has a stunning debut on her hands.
"Sometimes you just meet the right person at the wrong time," I say softly.
"Yeah," he says. "And then you spend every day afterwards wishing that time could be rearranged."
I love reading debut authors and was especially excited to start this novel given the great feedback it's already had. (I mean, Reese Witherspoon gushed about it, so…) And I absolutely fell head over heels for this book. I will be honest that it may not be everyone's cup of tea. There was a somewhat blurred line in the love triangle(s) that may turn some readers off. But I thought Josie Silver was completely honest in how she captured the relationship between the main characters and their tangled up, complicated situation. I was pretty wowed by how everything played out here and how we got to watch Laurie, Jack and Sarah over the course of about a decade, with all the changes and personal growth that happened over the years. It made me feel like I really got to know them all and cared that much more about the outcome.
Laurie was a really cool heroine. Down to earth enough that I think most readers will like her and special enough that she had this spark that drew people to her, I can see why the majority of the book is written from her POV. It was fun watching Laurie, fairly fresh out of uni at the beginning, as she truly became an adult with every new issue she faced and every trial life put her through. I loved her friendship with her BFF Sarah–who was a force of nature and such a hoot! The bond Laurie had with her was strong but boy was it tested at one point. That was one of the heartbreaking moments that brought tears to my eyes (one of a few) so at that point it made me fly through the pages to see how things would work out between them.
The additional POV of Jack, aka Bus Boy, worked quite well. I liked getting to view Laurie through his eyes and to get his take on how things changed over the decade of time we followed them. Overall I liked him very, very much but I will admit there were a few times when I wasn't impressed with how Jack handled things. But I think that, again, Josie Silver didn't pull any punches and let the characters make big mistakes, handle things poorly, so that it felt realistic. And Jack pulled himself together by the end which was wonderful. Who doesn't like to see a character redeem themselves, yeah?
An emotional story of friendship, missed chances, fated love, and life's unexpected bumps, One Day in December is keeper shelf worthy and will certainly be relished by fans of modern romance and chick lit.
Book Info:

Publication: Published October 16th 2018 | Crown |
A love story about what happens after you meet, or rather, don't meet the one.
Laurie is pretty sure love at first sight doesn't exist anywhere but the movies. But then, through a misted-up bus window one snowy December day, she sees a man who she knows instantly is the one. Their eyes meet, there's a moment of pure magic…and then her bus drives away.
Certain they're fated to find each other again, Laurie spends a year scanning every bus stop and cafe in London for him. But she doesn't find him, not when it matters anyway. Instead they "reunite" at a Christmas party, when her best friend Sarah giddily introduces her new boyfriend to Laurie. It's Jack, the man from the bus. It would be.
What follows for Laurie, Sarah and Jack is ten years of friendship, heartbreak, missed opportunities, roads not taken, and destinies reconsidered. One Day in December is a joyous, heartwarming and immensely moving love story to escape into and a reminder that fate takes inexplicable turns along the route to happiness.