One Family Christmas by Bella Osborne: Lottie is overwhelmed with grief when her beloved Nana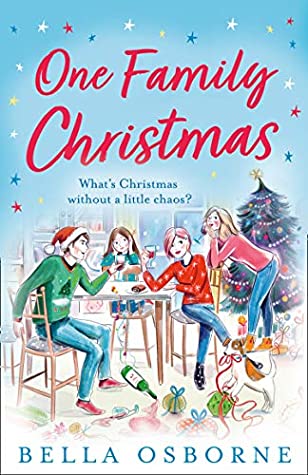 dies. Nana raised her mostly and had so many lovely traditions. The family manor house is supposed to go on sale now and Lottie wonders what she will do since she has been living there taking care of Nana for some time. She persuades her quirky family to celebrate one last Christmas together at the family home. She will make a traditional Christmas celebration as Nana did.
Lottie has never been a great cook, but pulls out family decorations and recipes. As each of the family members arrive, she starts to wonder if she can pull it all off. As if it weren't enough to deal with her family's issues, her first love Joe has just moved back to the area. He has been gone for nine years to America after breaking all ties.
This enchanting novel has romance on many levels from second chances to one that is almost cringeworthy. Even more this story is one of family and how they learn to deal with the past and move on.
The setting in the Cotswolds is charming. After seeing so many pictures and shows located there, it is on my bucket list to visit. I learned lots about English Christmas traditions that I was not familiar with. I had never known about crackers. I learned long ago that bidding meant dessert, not just something with milk.
There is lots of emotion, but humor is mixed in with equal measure. The cat Duchess and stray dog Dave add laugh out loud hilarity.
With my mother gone, I miss family Christmas times together. It is nice with my immediate family, but I still envy those with big celebrations.
ONE FAMILY CHRISTMAS is just one of many novels by author Bella Osborne. If they are as lovely as this one, I will have to dip into them someday soon.
Book Info:

Publication: October 15, 2020 | Avon |
A big family. A whole lot of secrets. A Christmas to remember…
This year, Lottie is hosting one last big family Christmas at the home she grew up in – just like her Nana would have wanted.
But when her relatives descend on the old manor house, Lottie gets more than she bargained for. Every family has its secrets, but in this family, everybody has one!
So, between cooking a Christmas dinner, keeping tensions at bay and a stray dog out of mischief, she has plenty on her plate (and not just misshapen sausage rolls and a frozen turkey). And then her first love shows up – nine years after he walked out of her life.
Can Lottie make their last family Christmas one to remember… for the right reasons?
A festive treat to curl up with this Christmas, perfect for fans of Milly Johnson and Trisha Ashley.