Their Christmas Baby Contract by Shannon Stacey is the second book in Ms. Stacey's Blackberry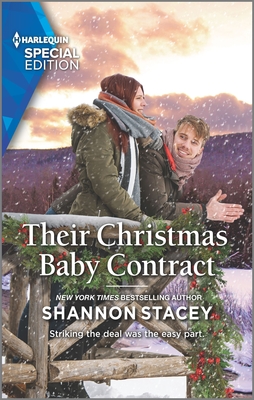 Bay series.
Reyna Bishop is so embarrassed. She may never live this down. How could he? How could her boyfriend of only a few months propose to her in front of a large crowd at a hockey game? To add to her embarrassment the whole debacle was flashed on the Jumbotron along with the words, "Reyna, will you marry me?" She was in no way, shape or form ready to marry Lucas. She told him "No." He stormed out of the arena while shouting they were through. Embarrassed isn't a strong enough word for how she feels. It only took twenty minutes for the awful video to be splashed all over the internet with #shesaidno and #hellonmen. This is a disaster but she'll get through this. One way or another.
Brady Nash fell in love with Reyna Bishop back in first grade. That's when he told his best friend Finn that he was going to marry her. He has dated plenty of women over the years but none of them could hold a candle to Reyna. But his dream of a life with Reyna was dashed a few years ago after his disappointing performance during a one-night-stand with her. After that he and Reyna barely spoke until the evening of the embarrassing Jumbotron proposal when she told her boyfriend she wasn't ready to get married and he dumped her. That guy wasn't the one for Reyna anyway. He couldn't be if he didn't realize what a private person Reyna is and such a public proposal was not the way to go. Brady was happy to give Reyna a ride home from the hockey game that night. That broke the ice a little. When Reyna later proposed having a baby with him Brady was stunned. Maybe this was his big chance.
Reyna and Brady are such a perfect couple. I liked how their pretending to be a couple turned out to not be pretend after all. It took honesty to cement their future. Good thing Brady was brave enough to speak up and declare his love.
This author always manages to touch my heart when I read her stories. The emotion in this story is so poignant. Add in all the festive Christmas activities and you get a delightful, heartwarming Christmas story.
Book Info:

Publication: November 1st 2020 | Harlequin Special Edition | Blackberry Bay #2
Striking the deal was the easy part.
He'll help her make a beautiful baby.
Brady Nash is handsome and anti marriage. And with IVF completely out of her financial reach, Reyna Bishop is running out of time to have the child she so very much wants. Theirs is a practical baby-making deal: no emotion, no expectation, no ever-after. They'll even "date" through Christmas to silence their hometown gossips. It's foolproof…till the time she spends with Brady and his warm, loving family leaves Reyna wanting more than a baby…