One Frosty Night by Janice Kay Johnson:Olivia Bowen had come home after her father's first heart attack. She was determined to help with the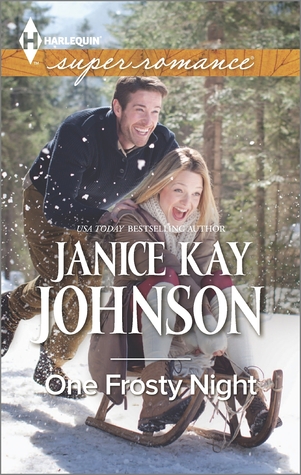 family business and get back to being a good daughter. What she didn't expect was to fall back in love with being part of the town again. When her father has his second and this time fatal heart attack things are strained with her mother but the business is going well so maybe, just maybe she'll stay around, in her own place this time.
Ben Hovik has come home with a failed marriage but a great stepson. Perhaps what they say is true you do learn from your mistakes and he sees a great lesson every time he sees his first love and his biggest mistakes in Olivia Bowen. He should have never broken her heart, but maybe sometimes true love gets a freebie once, twice and even three times.
In small towns nothing stays a secret for long, especially when there are people who are willing to stay up and speak out for the right things. So when a girl mysteriously ends up dead in the woods all sorts of things start to come up, high school keggers, high school sex, affairs, drinking and driving… and loves that can be hurt fiercely by words. Relationships can be painful and when you throw in everything else going on in town you aren't sure if any of them will exist as they were into the next year.
Ms. Johnson does a fantastic job of letting her readers into small town life. From the descriptions of the town to all of the characters, both main and secondary, it feels as if you are really there. The unfortunate problem was while she wraps up most of the relationships and gives a feel good there are still some unanswered questions and because she was able to get you so involved in the story to not know the answers is really frustrating. That being said I suppose it's the sign of a great author when now I'm craving the next. This is not a short read, but it is a great one. Take some time and take a journey to a small town, where things may not be what they seem, relationships are complicated, people screw up but in the end love is love no matter who it's between and happiness comes when you admit the truth.
Book Info:

Published November 4th 2014 by Harlequin Super Romance Series #1956
Unexpected Christmas plans
Olivia Bowen would rather avoid this holiday season. Even her satisfaction at improving the family business doesn't make up for the loss of her beloved father and the sudden tension with her mother. Olivia questions how much longer she can live in her hometown. And her decision is further complicated by Ben Hovik.
She should keep her distance—he broke her heart years ago. Yet his compassion and their still-sizzling attraction are seductive. Could she be falling for him again? When she spends Christmas with Ben and his teenage son, she wonders if this might be the first of many more…