Lady Elinor's Wicked Advertures by Lillian Marek: Victorians were enamored of travel, and of the new field of archeology. Moving out of the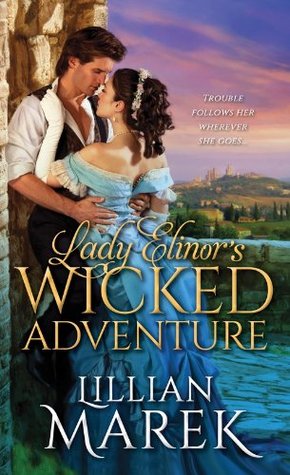 drawing rooms and the overstuffed and overheated parlors of Victorian England, Lillian Marek has her characters in "Lady Elinor's Wicked Adventures" on a road trip to Rome to learn about Etruscans and perhaps about love too.
Lady Elinor (Norrie) Tremaine has been in love with her older brother's best friend for probably her entire life. Harry de Vaux, Viscount Tunbury, has been in love with his best friend's younger sister for years, but doesn't feel worthy because of his parent's low morals and questionable behaviour. He has spent years traveling around the world, hoping to forget all about Elinor, and has now returned, prepared to take up some responsibility for his younger siblings. First, however, he has to survive a trip to Italy with Philip Tremaine, his best friend, Elinor, and the Marquess and Marchioness of Penworth, their parents. United by the trip, nefarious evildoers and stunning Etruscan ruins, will Harry be able to keep up his defenses against Elinor?
He closed his eyes. He must be going mad. Here he was feeling jealous of a couple who had died more than two thousand years ago. But he longed for the happiness they had had, the happiness he feared he could never have. He wanted Norrie to smile up at him that way, with a smile full of love and trust. He wanted to be able to put his arm around her. He wanted to be the one to protect her. He wanted her in his arms, melting with passion. He wanted… God, how he wanted!
I will admit, I found this book a trifle slow moving and I had a hard time initially getting into it. By and by, it picked up, and by the time I was about half way through I was enjoying it. Be warned, however, it's not a book to be taken with great seriousness. The characters are broadly realized archetypes, as in "the girl who must be rescued," "the wise all-knowing mother," "the cackling evil bad guy," and so on, and as I read I thought it would make a great stage melodrama. The archeological details on the Etruscan tombs, however, are very well done, as are the descriptions of Rome and other landscape details.
So, if you're looking for a fun, Victorian Era historical with travel and adventure, look no further than "Lady Elinor's Wicked Adventures" and enjoy the trip!
Book Info:

Published November 4th 2014 by Sourcebooks Casablanca
Harry DeVaux, Viscount Tunbury, loves Lady Elinor Tremaine, but is convinced that his past makes him unworthy of her. He agrees to accompany the Tremaine family to Italy to explore Etruscan ruins, even if it chips away at his resolve to stay away from the delightful woman he loves.
Amid the sightseeing and treasure hunting, Elinor comes to realize that she wants far more from Harry than friendship, but when a dangerous discovery leaves them fighting for their lives, it might just be too late…