One Little Indiscretion by Joss Wood is a sexy 'one night stand becomes more' romance for an art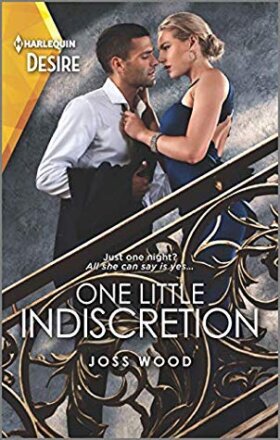 detective and her CEO client.
Just because Carrick Murphy saved her life after a choking incident at a cocktail party doesn't mean that Sadie Slade will look at him any differently than before his family company, art auction house Murphy International, hired her to track down the provenance of a recently appeared painting as part of an estate inheritance. But when he shows up at her home to check up on her, the lustful attraction that had been simmering between them along with her desire to celebrate life leads to a steamy night together, and an unexpected pregnancy! Carrick and Sadie are both divorced and have a lot of baggage. Can they turn their fortunes around and have a better future together?
I really enjoyed the author's Love in Boston series and I'm delighted to see this spinoff (Carrick's sister Tanna married Levi Brogan in Second Chance Temptation) and some familiar characters (Levi and his sisters). Carrick and Sadie both agree after their one night stand that it's definitely not something they should repeat, yet despite their best intentions, Sadie's pregnancy means they are going to have to make time for each other to figure out what to do, and it's hard to resist spending more time together, in and out of bed.
Carrick's marriage ended in disaster, and wrongful accusations were made by his ex-wife Tamlyn who was looking for revenge. He never defended himself from her lies, knowing that his true friends and family would be on his side and anyone else didn't matter. What he doesn't know is that Sadie's friend and virtual assistant Beth is Tamlyn's sister. Sadie's heard all about Carrick from them, the negative things, and Beth has told her that Carrick is exactly like Sadie's ex-husband, making her wary despite her attraction to him. Sadie is torn between her loyalty to Beth and her growing feelings for Carrick, who is not exhibiting any of the behaviour Beth has warned her about. Passionate feelings vie with caution and require some honest communication and trust if they're going to be able to move forward into a real relationship.
This story has a great mix of drama, passion and family. I love Sadie's career choice and her habit of comparing colors of everyday items that she sees in passing with hues in famous paintings. I found the plot of trying to find the providence of the discovered painting an interesting one, and both Carrick and Sadie's appreciate of fine art is another link in the strengthening bond between them as they get their happy ending and look forward to being parents. I'm excited to read more in this new series!
Book Info:

Publication: Feb 01, 2020 | Harlequin Desire | Murphy International #1
Just one night?
All she can say is yes…
"I need to talk to you."
And this time she must resist temptation…
Sadie Slade isn't interested in romantic entanglements. She's been there, done that. But handsome CEO Carrick Murphy tangles things up for her—fast. Their steamy one-night stand has made them parents-to-be. And she still can't stop fantasizing about a repeat with the stubborn bachelor—despite the secrets they're both keeping. Is it time for them to take a chance on happiness?