Cowboy Tough by Stacy Finz: Cowboy Tough by Stacy Finz is the second book in her Dry Creek Ranch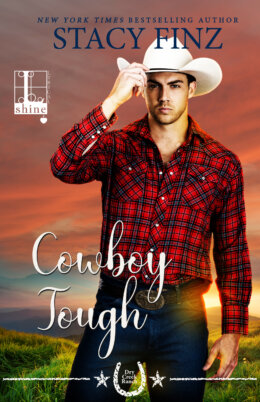 series. I read the first book in the series, Cowboy Up and totally enjoyed it. I liked Cowboy Tough just as much.
Charlotte Holcomb/Charlie Rogers had pulled off the road when the cramping started. "This is bad, real bad," she thought. The next thing she knew a sheriff was asking her to put her window down and telling her she couldn't stay there. She told him she would get her car back on the road but realized she just couldn't. When the sheriff noticed blood on the seat she told him she was having a miscarriage. He convinced her to let him take her to the hospital and maybe they could save the baby.
Sheriff Jace Dalton knew he had to act fast. He got her out of her car and transported her to the closest hospital. Jace decided to wait there to see how Charlie fared. The ER doctor informed him that Charlie had lost the baby and he was concerned she had been abused due to seeing contusions and much bruising on her back. Jace strongly suspected that Charlie was running from an abuser. She refused to remain at the hospital so Jace attempted to find a motel room where Charlie could spend the night and hopefully get her strength back. No rooms were available so he ended up taking her home. And that's how it all began.
Ms. Finz has three tough, honorable characters in the Dalton cousins. These three men inherited Dry Creek Ranch after the death of their grandfather. They face financial difficulties with past due taxes owed and the need to find ways for the ranch's income to increase. I like how the author finds perfect matches for these guys. In this case Jace Dalton is raising his two sons on his own after his wife left them. Charlie agrees to stay and help with the boys while Jace looks for a babysitter. Charlie gets along great with the boys and comes to care for them. Knowing her ex-boyfriend who comes from a very wealthy and influential family will eventually catch up with her means Charlie has to move on at some point. Jace falls for her and wants her to stay. The storyline moves along smoothly and I think will keep the reader's interest. This is a wonderful small town romance filled with love, community interest and family togetherness.
Book Info:

Publication: February 4th 2020 | Lyrical Press | Dry Creek Ranch Book 2
Five hundred acres of gorgeous California land is a life-changer for cousins Cash, Jace, and Sawyer—and a surprising chance for each of them to find a game-changing love . . .
Sheriff Jace Dalton's plate is piled high even before he discovers a stranded motorist just a few miles from his home. With two lively young boys to raise, a challenging reelection to win, and a hefty tax bill due on the ranch, all he wants at the end of the day is a shower and a cold beer. But the woman in the packed SUV clearly needs his help—and though she's a stranger, Jace finds himself wanting to turn her haunted look into a smile . . .
Fleeing her abusive boyfriend, Charlotte Holcomb thought she'd escaped before she lost everything, but more heartache was to come. Now, sidetracked by a brewing storm, Charlotte has to trust the handsome sheriff. Just one night, she tells herself, before she's on her way again. But when gentle Jace and his kids offer the kind of sanctuary she never imagined possible, it's hard to say goodbye. Soon the two wary strangers are becoming friends, and longing to open their hearts to more—if they can move beyond the pain of their pasts . . .
PRAISE FOR COWBOY UP
"Stacy Finz delivers a fantastic tale of cowboys, cattle rustling and the power of love and family in the California gold country." –Kate Pearce, New York Times bestselling author