While I love everything Carolyn Brown, I have to say that One Lucky Cowboy (Lucky #2) was a surprise for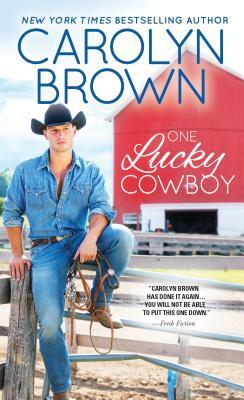 me. This story not only has sexy cowboys, strong female characters and meddling grandmothers, it also has a hint of suspense and mystery, which I found refreshing. This is the story of Slade and Jane.
Jane Day is running from her past. Engaged to a man she thought she knew, she runs away on the night before her wedding after overhearing that her soon to be husband and her stepfather are planning her death before can inherit her families Oil Company. She only has 6 weeks until her 25 birthday, and if she can lay low until then she can go back and claim her birthright and throw her stepfather out on is ear. When she is offered a job on the Double L Ranch she knows that it is the perfect place to hide, the one place that she will never be found. And despite the protest of the sexy cowboy wanting nothing then to ship her as afar away as possible, it is the closest she has felt to home and family in a long time.
Slade Luckadeau does not trust Jane Day. Really what kind of name is that anyway? He has a feeling that she is nothing but trouble, no matter how well she cooks, and how hot she makes his blood boil. He wants her off his land, and away from his grandmother. But as Jane and Slade keep getting thrown together, they form an unlikely friendship. Just as Slade begins to put his misgivings aside, Jane's past comes roaring into town.
As Slade is forced to take Jane and run, keeping her safe until her birthday, they give into the desire that it building between them. But danger is closing in and they don't know who to trust. When it is all said and done, will Jane and Slade find their HEA or will they be forced to walk away.
What I loved about this story is the element of suspense. I mean yea they were on the run, and they had no idea who they could truly trust, but some of the funny things that they experienced, their impromptu road trips and sight seeing were laugh out loud funny. And the feelings that they had for each other were real, they just needed to have faith in themselves and in each other. And amazing addition to the Lucky series.
Book Info:

Publication: March 6th 2018 | Sourcebooks Casablanca | Lucky #2
No big blond cowboy is going to intimidate this spitfire
If Slade Luckadeau thinks he can run her off his ranch, he's got cow chips for brains…
This smart-talking ranch woman is giving him serious pains
She's winning every argument, and he's running out of fights to pick…
With his granny up to some serious matchmaking, and trouble with a capital "T" threatening the Double L Ranch, suddenly it's Slade's heart that's in the greatest danger of all…
The Lucky Cowboys series:
Lucky in Love (Book 1)
One Lucky Cowboy (Book 2)
Getting Lucky (Book 3)
Talk Cowboy to Me (Book 4)