In One Lucky Vampire (Argeneau #19) by Lynsay Sands, Newly immortal Stephano "Jake" Colson has had a few issues adjusting to the changes in his lifestyle. Once a VP for a company in California, he now works in security in Ottawa, using his new abilities to his benefit. Unbeknownst to him he was raised in a family of immortals until his mother explained it to him on his eighteenth birthday. As a huge horror buff who grew up believing immortals/vampires are evil, his world was suddenly shattered. He had nothing to do with his family, except for his parents and younger brother, after finding out that they used mind control to alter his thoughts and memories over the years so he wouldn't realize he was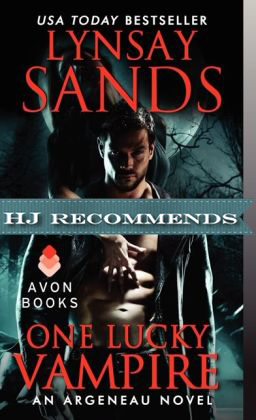 different from them. Years went by which were filled with work and a few failed relationships. When Jake was in his fifties, he was attacked and left for dead. His boss Vincent Argeneau, an immortal, turned him in order to save his life. Even though he is thankful to still be alive, such as it is, Jake has still been struggling the last three years with becoming what he thought he hated.
'Damn, even when unconscious and drooling, the woman was the sexiest thing he'd ever seen.'
Jake's "Aunt" Marguerite finds him in Ottawa and asks him to guard a friend of the family, artist Nicole Phillips. She is at the end of a messy divorce and it appears her life may be in danger. Jake is to act as a housekeeper/cook and protect her for the next two weeks. He's uncomfortable lying to Nicole, or to anyone for that matter since his mother's confession to him about his childhood, but he agrees to help. His initial reaction of Nicole is that she's sweet, creative and has a good head on her shoulders…although she's a bit too trusting. He makes a few changes to the security of the house, changing the locks and adding security measures once he realizes they had an intruder sneak out on the day he arrived. Marguerite explains to Jake that he might want to try to "read" Nicole as there is some information she just can't explain to him. He's shocked to find out that he can't read her, which means she's his life mate. So now he has to deal with this information on top of protecting her life, solve the mystery of who is threatening her, and find a way to tell her that not only is he an immortal, but that they are bonded for life. Easy right?
'Had he wondered and worried about the fact that while he found her attractive he had no great desire for her? Had he really thought that? The question ran through Jake's head, free-floating around the passion that exploded up within him the moment his lips touched hers. Honestly, it felt like it slammed up from the ground, through his feet, up his legs and straight to the groin.'
Nicole Phillips is ready to forget about her bad marriage and move on with her art career. She's been through therapy to help repair the damage her ex did to her self-esteem and she's ready to take control of her life again. But now she has friends and family telling her that they fear her life is being threatened after a few minor mishaps around the house. Nicole highly doubts her ex would be smart or ambitious enough to cause her harm. But she agrees when family friend Marguerite suggests she hire a housekeeper/cook to help out while she's busy painting, and Marguerite knows just the person. Nicole was certainly not expecting Jake Colson to show up. He's absolutely gorgeous and not only is he a great cook, but he proves to be a huge asset by helping beef up her home security system. She's a bit annoyed he took it upon himself to make the arrangements without consulting her first, but evidently Marguerite had told him not to bother her with the details. When the threats on her safety also take a toll on Jake, Nicole has to admit something weird is going on. And that weirdness includes Jake and his family. There is something off about them and when Nicole finds out the truth, it just might change her life forever.
'Jake was nothing like her aunt, Nicole thought, recalling him sitting on the edge of the hot tub, buck naked. With a flat stomach, and muscular arms and legs, the man was built. He could be a Chippendale, or a male model.'
The latest in Lynsay Sands' Argeneau series is a wonderfully entertaining sexy story. The chemistry between Nicole and Jake was intense but didn't seem over the top or forced. There was a bit of mystery with the attempts on Nicole's life and admittedly I didn't actually figure out whodunnit until the very end. I really enjoyed the playful banter between our main characters as well as with Jake's family. (Especially between Nicole and Jake's mom in the hospital…too funny!) I highly recommend this to all of you paranormal romance lovers out there. Even if you haven't read any of the other books in this series, Lynsay does a great job explaining the backstory in a way that will make sense of it all.
Book Info

Publisher: Avon Release date: September 24, 2013 | Series: Argeneau
No one does wickedly funny and irresistibly steamy like New York Times bestselling author Lynsay Sands—especially in this red-hot romance between a reluctant vampire and the beauty who needs his help.
Luck be a vampire tonight . . .
When Nicole Phillips agreed to hire a housekeeper, she pictured someone a little frumpy and almost certainly female. Instead, she gets gorgeous, unmistakably male Jake Colson. The man is proving indispensable in the kitchen—and everywhere else. Except Jake might not be a mortal man at all.
. . . and every night
Who wouldn't want to be a tall, dark, powerful vampire?Jake, for one. He's barely had time to adjust to his newstate before he's roped into a family favor. Still, secretly playing bodyguard to sweet, sexy Nicole is turning out to be the wildest ride of his life. First, he'll put a stop to whoever's targeting her. Then he'll prove that this kind of love, and luck, happens only once in an eternity.