One Night Expectations (Deveraux, Inc. #3) by LaQuette is quite a story! Deveraux Inc. wants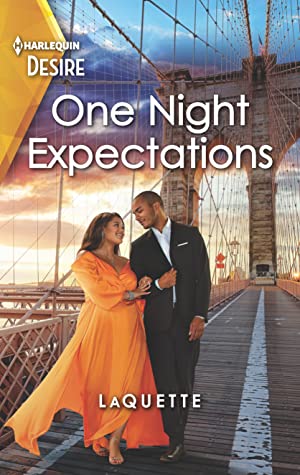 permits for a proyect and Councilman Lennox Carslile is the one who could approve it. One night, Amara Deveraux-Rodriguez sleeps with Lennox, who's running for NYC mayor, under false pretenses. That night brings consequences in the most complicated moment of their lives; Amara could lose her promotion in the family's business. Also, since Lennox is the one who has the last word on the permit process, it would be a conflict of interest having a relationship with Amara but, at the same time, he has to do the right thing—meaning marry Amara—if he wants to protect his political career. So he has to convince Amara to marry him. And, if he has to blackmail her to do it, so be it. Such a messy situation these two created!
 "Do you still have questions about what we'll do if either of us needs sex?"
Doubts? No. At this moment, all she had were guarantees. And the biggest one ran through her mind as her gaze met his. <i>This man is going to dismantle your entire life.</i> And as she watched a smile creep onto his face, all she could think was: <i>And you're going to let him.</i>
"Fine," she whispered. "I'll marry you." "
Lennox will give Amara everything she needs: support for her and the baby, stability and mind-blowing sex. But their marriage of convenience will. Everything…except love. Seeing how his mother suffered because of her husband's death (Lennox's father) to the point of almost losing interest in life made Lennox promise to himself that he would never fell in love because he doesn't want to be like his mom. In other words, he's terrified of love. Amara also doesn't want to fall in love. She thinks everything she worked so hard for will be destroyed if she let someone in her heart. The only thing she wants in this moment is to prove her professional worth to her family, especially her grandfather, who always compares Amara with her mother. Or so she thinks.
This couple is pure fire; their intensity is the burning pages type. But what's most important, the have strong values, their families are their priority more than their professional aspirations, and they are so stubborn they're constantly clashing between them. And that's why the work so great! Their battle of wills is pretty exciting. And Lennox is really HOT.
This book is really good. Its storyline is very well developed, the scenes are masterfully constructed and the pace of the plot is perfect. Also, the secondary characters are very diverse. Speaking of diversity (and with this I mean we have different ethnicities in the main characters backgrounds and some LGBTQ characters, which it brings more possibilities for Harlequin Desire books), I'm curious about Amara's cousin, Stephan. The glimpses we see about him in the book tells me that his story could be an interesting one. Okay, the man is gay but, who knows? Maybe a LGBTQ story in the Harlequin Desire world? Just think about it, folks…
I really loved the third installment of the Deveraux Inc. series. It's a great unexpected pregnancy/blackmail/marriage of convenience story that needs to be read over and over again. That said, I felt the plot has an open ending. What happened with Martha, Amara's wicked aunt, for example? Or Stephan's "demons"? There were a few questions without answers. I don't know if this series will have a fourth book, but these details need to have an explanation, in my humble opinion. And the book NEEDED an epilogue. Period.
Book Info:

Publication: April 26, 2022 | Harlequin Desire | Deveraux, Inc #3
An impulsive one-night stand has unexpected consequences in the latest Devereaux Inc. novel by LaQuette.
For these Brooklyn power players,
one night holds surprises to last a lifetime.
When her grandfather meddles in the billion-dollar development deal she's closing for the family company, Amara Devereaux-Rodriguez feels betrayed…and rebellious. A chance encounter with Lennox Carlisle is just the kind of trouble she's looking for. But their night together soon becomes a threat to Amara's aspirations because the mayoral contender has the power to quash the Devereaux deal. And now Amara's pregnant with his child. Can she quench the fire for Lennox that could send their lifelong ambitions up in flames?
From Harlequin Desire: A luxurious world of bold encounters and sizzling chemistry.
Love triumphs in these uplifting romances, part of the Devereaux Inc. series:
Book 1: A Very Intimate Takeover
Book 2: Backstage Benefits
Book 3: One Night Expectations