One Night Only by J.C. Harroway is a sexy romance that combines a couple of favorite tropes (workplace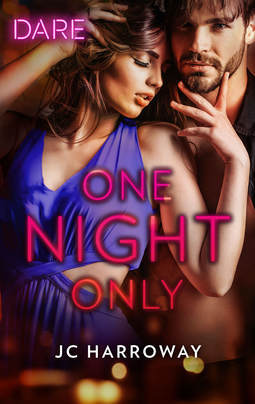 romance, best friend's sibling) in an enjoyable and entertaining story.
When Essie Newbold encounters Ash Jacob in a London City park, what starts out as a friendly meeting quickly morphs into a sexy one night stand. Essie doesn't correct Ash's assumption that she's a tourist in the city since they don't plan to see each other again. So imagine her surprise when she shows up at her brother Ben's new London club to take on the position of his new bar manager to find his silent partner is none other than Ash. Awkward! While they can pretend they're meeting for the first time to avoid explaining things to Ben, when Ben leaves the two of them to handle things while he deals with his New York club issues, things get a little complicated.
Ash is in London due to a paparazzi fueled nightmare involving his reprobate father and ex-girlfriend. He wants nothing to do with relationships, or the press, and is lying low. He never goes for more than one night with a woman but being around Essie is too much temptation, even though he's angry over her deception. He's not sure he trusts her to be in charge while Ben's gone, so he plans to keep a close eye on her.
As for Essie, her family life is complicated to say the least, and her chance to prove her worth to her brother by helping him when he needs her is vitally important to her. She's certainly not going to let a bit of sexual attraction hinder her. She's just gotten a PhD in psychology and is job hunting in her field while she helps her brother out. She runs a popular relationship blog in her spare time, and detailing her one night stand with the mystery stranger and subsequent shock meeting the next day (she keep's Ash's identity anonymous) gives her blog a boost. As Ash and Essie spend time together, they find themselves unable to resist their attraction. But with Ash's aversion to gossip and the paparazzi, when he finds out he's the star of Essie's blog will it ruin what they've been building between them?
There's a lot of complicated family dynamics in this one! In Her Dirty Little Secret, Ash's sister Harley got her HEA in a second chance romance, and some of the Jacob family secrets were revealed there. In this one, the fallout has continued with Ash leaving New York to get some space and figure out how to move his life forward. He's a wealthy attorney but extremely tired of being the focus of salacious stories and bad press. In London he can stay fairly anonymous. Ben is his best friend and happy to have him take over the club preparation and opening night. Since Ben had never spoken much of his sister it was a shock to have Essie show up, especially after their passionate night together. He knows that for the sake of his friendship with Ben he should stay hands off – but with Essie's full consent they embark on a steamy affair, threatened only by his growing feelings for her – and his discovery of her blog.
Essie has her own family problems. It turned out that her father had 2 lives with 2 different women – and she was from the 'other' family, the hidden one. So when she found out about her brother Ben they developed a strained relationship, but one they are working on solidifying since it's neither of their faults that their father turned out to be duplicitous. Giving her the job is the first sign of building trust between them, and Essie is offended that Ash initially thinks she'd be easily replaced, nor does Ash understand exactly what it means for her to be there. Eventually they both share their family secrets with each other which deepens their emotional bond. It will be up to Ash to decide, when he finds out what else Essie has been hiding, whether what they have is worth saving.
I've quickly become a fan of J.C. Harroway's Dare romances and she's now on my auto-read list. Every book by her so far has been passionate and exciting! Each book is standalone but has some linked secondary characters and I'm looking forward to seeing who will get a story next!
Book Info:

Publication: May 21, 2018 | Harlequin Dare |
The romantic vs the cynic
Chemistry is all they have in common!
New York lawyer Ash has moved to London to escape his demons—and one red-hot night with gorgeous stranger Essie is the perfect distraction! He's ready to forget about her entirely…until she walks into his office for her first day at work. She's a romantic, seeking her happily-ever-after—he's a distrustful cynic who can't commit… Could a sexy fling be the best mistake of their lives?