The Kiss Quotient by Helen Hoang: Stella is very much a workaholic. She loves her job; getting lost in her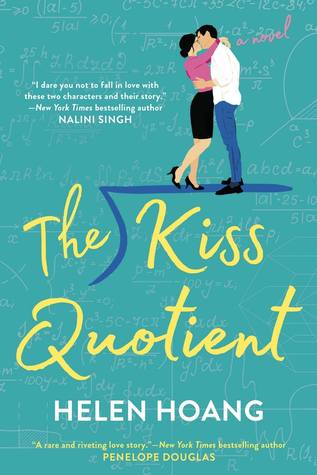 data and finding patterns is her passion. She is super smart and competitive, but she struggles with social interactions. She is very honest, doesn't always correctly interpret social cues, and prefers order and routine. She wants to please her parents and has endured the many blind dates set up by her meddling mother.
Michael is incredibly talented in many areas and exudes confidence. He's a loyal son and brother who would do just about anything for his family. Being a male escort really isn't his dream job, but it does pay the many, many bills that continue to pile up. The thrill has long worn off for him and he has a strict no-repeat policy for all of his clients.
In an effort to get more practice in relationships and sex, Stella hires Michael. She's not at all what he was expecting and he's intrigued that such a smart, beautiful woman would ever be in need of his services. There's an immediate chemistry between them and he is very good at adjusting his plans for them around her needs.
"Is that absolutely necessary?"
He exhaled sharply, and his brow creased in puzzlement. "You don't like French kissing?"
"It makes me feel like a shark getting its teeth cleaned by pilot fish." It was weird and far too personal.
Michael makes her feel safe and comfortable, even when he's pushing her out of her comfort zone. As their meetings continue and they grow closer, they find that they actually really like each other and have a few things in common despite their very different backgrounds. Michael is very understanding of her needs while introducing her to new things.
His head was titled to the side, his smile particularly fond. "You are adorably sexy when you talk about your work."
"Those things don't go together."
He laughed. "They do with you. Continue, puzzle fascinating phenomenon."
The Kiss Quotient is sweet, sexy, heartwarming, and an absolute delight. Helen Hoang created unique characters with different challenges and provides a fresh perspective. Ms. Hoang developed an entertaining cast of characters in their families. Fans of Jasmine Guillory and Jessica Clare will enjoy The Kiss Quotient.
Book Info:

Publication: June 5th 2018 | Berkley | The Kiss Quotient #1
A heartwarming and refreshing debut novel that proves one thing: there's not enough data in the world to predict what will make your heart tick.
Stella Lane thinks math is the only thing that unites the universe. She comes up with algorithms to predict customer purchases–a job that has given her more money than she knows what to do with, and way less experience in the dating department than the average thirty-year-old.
It doesn't help that Stella has Asperger's and French kissing reminds her of a shark getting its teeth cleaned by pilot fish. Her conclusion: she needs lots of practice–with a professional. Which is why she hires escort Michael Phan. The Vietnamese and Swedish stunner can't afford to turn down Stella's offer, and agrees to help her check off all the boxes on her lesson plan–from foreplay to more-than-missionary position…
Before long, Stella not only learns to appreciate his kisses, but to crave all the other things he's making her feel. Soon, their no-nonsense partnership starts making a strange kind of sense. And the pattern that emerges will convince Stella that love is the best kind of logic…