Making Up by Lucy Parker is the third sexy romance in her London Celebrities series. It's another enemies to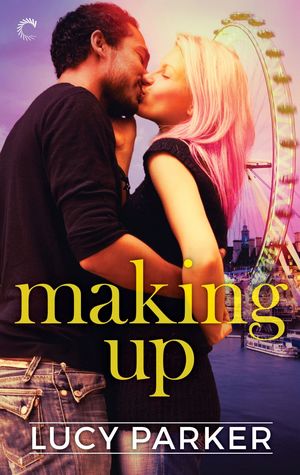 lovers story with a unique setting, this time amid the high flying world of circus artists.
Trix Lane experienced a drop in confidence after her last relationship, one with a controlling man who made her question everything about her life including her skills in the air. When a co-worker's fall results in the chance for her to take on a more challenging role, she's got to fight to get back the desire for something she would have jumped at the chance to assume a few years before. To top it off, she's got to deal with the presence of her longtime nemesis, make up artist Leo Magasiva.
At one time Leo and Trix were friends in school, until some face saving comments backfired and destroyed that friendship. For the last ten years they've been in the same artist circles but kept a wary distance from each other, with an insult at the ready if necessary. Leo's last job was a bust, and he's been hired to do the makeup for the role Trix will assume. Plus, he's taking over the empty room in the house Trix shares with two other performers. They'll not just be in each other's hair at work, but living side by side.
Had things been different, there was a good possibility that Leo and Trix would have ended up together. With their new close proximity, and some actual honest conversations to clear the air, they discover that the attraction between them is still there, hovering under the surface. Until it's no longer something they can avoid. But Trix is gun shy when it comes to another relationship and Leo may soon be moving to the US if he can win a contest that he's entered. Will their second chance be over all too soon?
If there is a queen of banter award, it definitely should go to Ms. Parker. She's got the formula of making an enemies to lovers relationship have just the right amount of insults, with some honest digs that makes even the participants laugh. Wit, snark and a good comeuppance are a delight for fans of romantic comedies and Leo and Trix have that chemistry, one that eventually leads into some sexy scenes too. It's not all fun though, as Leo and Trix confront what happened in the past and the hurt that it caused, as well as current events.
The damage to Trix's emotional stability from her last relationship is something even Leo can see in her occasional panic attacks and her lack of confidence in moves that she used to perform without fear. He is instrumental in helping her regain that confidence, though it takes her some time to believe in herself again. Her feelings about Leo are complicated by her fear of losing herself in another relationship, something that she must work towards healing in order to have a chance at a happy future with Leo. I really appreciated how Trix's anxiety is treated in the story, and that seeing a therapist to help sort out her feelings is put forth as a normal activity with no stigma attached, as it should be.
There are some interesting secondary characters in this story. Trix's best friend Lily (from Pretty Face) is getting married and they share some emotional times together as Trix is still feeling guilty from how she was manipulated by her ex into almost destroying their friendship. The cast of the show she is in are also being filmed for a reality show, with her co-worker Jono shipped as her partner, making for some awkwardness off set since they are just friends.
Then there is Leo's sister Cat, a young woman who clearly has some problems and isn't the nicest person to be around. It adds up to a lot going on in Leo and Trix's daily life to complicate their growing feelings for each other. Leo is steadfast in his feelings for Trix and it's up to her to choose where their future will lie. Fortunately, she makes the right choice and we get a sweet ending, and a lovely epilogue too. For fun, sexy romantic comedies I highly recommend all the books in this series, and can't wait to see what other romances Ms. Parker has up her sleeve!

Book Info:

Publication: May 28, 2018 | Carina Press | London Celebrities #3
Once upon a time, circus artist Trix Lane was the best around. Her spark vanished with her confidence, though, and reclaiming either has proved…difficult. So when the star of The Festival of Masks is nixed and Trix is unexpectedly thrust into the spotlight, it's exactly the push she needs. But the joy over her sudden elevation in status is cut short by a new hire on the makeup team.
Leo Magasiva: disgraced wizard of special effects. He of the beautiful voice and impressive beard. Complete dickhead and—in an unexpected twist—an enragingly good kisser.
To Leo, something about Trix is…different. Lovely. Beautiful, even though the pint-size, pink-haired former bane of his existence still spends most of her waking hours working to annoy him. They've barely been able to spend two minutes together for years, and now he can't get enough of her. On stage. At home. In his bed.
When it comes to commitment, Trix has been there, done that, never wants to do it again. Leo's this close to the job of a lifetime, which would take him away from London—and from Trix. Their past is a constant barrier between them.
It seems hopeless.
Utterly impossible.
And yet…