One Night, White Lies by Jessica Lemmon is a sexy and fun romance with one of my favorite tropes, the 'best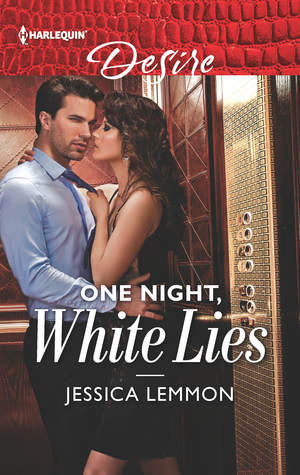 friend's sibling' as the catalyst that brings two people together.
When Drew Fleming spies her brother's friend Reid Singleton, the man who inspired her teenage crush, at a conference, she gets up the nerve to speak to him. She wants to show him she's all grown up and no longer an awkward teenager. To her surprise (and truthfully a little disappointing since she'd known him on sight) he doesn't recognize her and turns on the charm just like he would for any other single attractive woman. Drew decides to take advantage of her anonymity to claim something she's always wanted – Reid in her bed.
Following a night of passion, Reid figures out exactly who Drew is and is horrified but also can't deny his attraction to his friend's all grown up sister. It would be smart to keep his distance. But the chance to keep seeing each other for the few days they are away from friends and family is too great a temptation. They both agree to a time limited fling – but can they stick to it once they are home?
I've enjoyed several of the author's romances in the past and once again she has written an enjoyable and sexy story though the issue of Drew's weight did sometimes give me pause. Drew has been overweight for a large portion of her teenage and early adult years and recently has lost some weight to become a healthier and happier version of herself. It's increased her confidence and given her the self esteem boost to do something like approach Reid. Because weight is a part of Drew's character concerns, it's a continual theme throughout the story. Fatphobia, the idea that being fat makes you less attractive or intelligent, is a real concern in romance novels today and I prefer to see stories where heroes and heroines come in all shapes and sizes with less emphasis on numbers and more on healthy living. To her credit, the author doesn't make Drew into a newly stick thin figure but one with a realistic shape and body issues, and Reid certainly makes no bones about how attractive he finds Drew now – though that gives rise to the idea that if she hadn't lost the weight he wouldn't have been attracted to her. Anyway, it's something to be aware of when reading this story.
The romance between Reid and Drew proceeds at a swift pace as once they are back in their familiar orbits, they still can't keep their hands off each other. Their love scenes are sexy and fun. When their secret eventually comes out (as it always does), Drew's brother Gage takes the news pretty well – he's concerned about Reid hurting Drew's feelings by being unable to commit to her but not angry or an overbearing big brother.
There's a bit of suspenseful mystery in this story too, with a secret from Reid's past that he shares with Drew and that eventually comes to a surprising but fitting conclusion. That's a big part of the second half of the story. Because of some of these later events, Reid makes some mistakes in how he deals with Drew, things he needs to make up for in order for them to have their happy ending. But they eventually resolve things and have a bright future to look forward to. I'd have given this a higher grade if it weren't for my concerns regarding the weight issues but fans of the author will find lots to enjoy here.
Book Info:

Publication: Jul 01 2019 | Harlequin Desire | The Bachelor Pact #3
She needs to kiss him…
before he figures out who she is!
Reid Singleton just had the best sex ever. When the brown-eyed bombshell turns out to be Drew Fleming—his best friend's sister all grown-up—Reid can't decide if he's furious at her ruse or ready for round two! Drew is determined to tame this stubborn bachelor. But she isn't the only person from Reid's past who will change his future…