In One Night with Dr. Nikolaides (Hot Greek Docs #1) by Annie O'Neil, Cailey Tomaras left Mythelios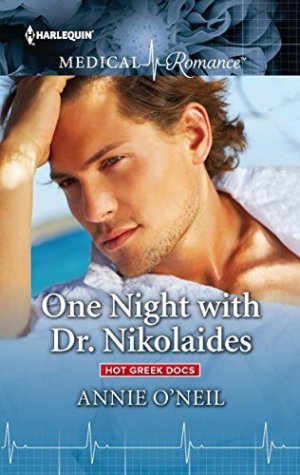 in order to keep her family from suffering any consequences of her getting close to Theo Nikolaides. They were too different and his father didn't approve. However, when an earthquake hits Mythelios, Cailey returns to help. Will Theo be able to convince Cailey to take a chance on him or will they lose their shot at happy ever after?
He squared himself off in front of her, one large, lovely hand on each shoulder. "Just remember: I'm a humble country doctor and you're a big city nurse. You can do this, koukla mou. Okay?"
When Annie O'Neil combined with authors Tina Beckett, Amalie Berlin and Amy Ruttan to write a series about doctors that have overcome so much in their pasts to get to where they are in their lives now and finally find the love they deserved, I absolutely loved all four books. So, when I learnt they were writing another series where four friends — who happen to be doctors too — are returning home to help out during a time when their country needs them, I was thrilled and I've got to say that this first book of this new series was an absolute delight to read. The way this story started opens this series wonderfully, as Theo has gone against everything his father wanted for him and helping the people of his country is the most important thing to him. However, in saying that, the earthquake brings a lot of devastation and Theo knows he's going to need help. Will his friends return to Mythelios to help?
As for the dialogue, it was intense due to the main characters back stories, the medical emergencies these two handle to help the people of Mythelios and everything these two go through on their journey to happy ever after including whether the hero will be able to accept something the heroine admits to him. Moreover, both the main characters were fascinating and I loved their back stories, as they're so different, and yet, they're so great together. While the hero has gone against everything his family wanted for him, the heroine has done everything she can to make sure her family survives any repercussions her past friendship with the hero could have caused, especially since someone didn't want them to be anything more than friends.
With the heroine, she's strong and brave in going home to Mythelios, even though it's not going to be easy for her. I also liked how much of a challenge she provided the hero because she knows getting involved with him could lead to trouble for her family. While the hero, he's done well for himself and I liked how good of a doctor he is. Certainly, he's nothing like his father who thinks he's better than everyone else and isn't afraid to make those that he think are beneath him know it. Yet, what I liked most of all about the hero was his determination to win the heroine over because he's always liked her and wants to prove that just because they're complete opposites doesn't mean that they can't be together.
"What did you do and how are you going to make up for it?"
"I didn't step up when I should have."
"Why not?" Elise was indignant.
"Because I was a fool. I was afraid I'd lose something I'd fought for, but now I realize absolutely nothing matters without Cailey in my life."
"Swoon!" Elise did a dramatic dip of her knees and sent Cailey a look of sheer disbelief. "Why are you not throwing yourself into this man's arms?"
Overall, Ms. O'Neil has delivered a really good read in this book where the chemistry between this couple was intense; the romance nicely-detailed and proves that opposites attract; and the ending had me loving the hero's determination to make things right with the heroine because she means everything to him. However, it was the final chapter that wrapped this story up nicely, as Theo and Cailey have come so far, especially when it comes to his family. I would recommend One Night with Dr. Nikolaides by Annie O'Neil, if you enjoy medical romances, the opposites attract trope or books by authors Tina Beckett, Amalie Berlin, Amy Ruttan and Susan Carlisle.
Book Info:

Publication: May 21st, 2018 | Harlequin Medical | Hot Greek Docs #1
One night…that could change her life forever!
In this Hot Greek Docs story, when an earthquake hits the Greek island of Mythelios, nurse Cailey Tomaras rushes to help – only to encounter childhood crush Dr Theo Nikolaides! As the trauma fades, they find comfort between the sheets. But when Cailey realises the consequences of that night, she must prove to lone wolf Theo that he'd make the perfect dad.