The One You Can't Forget by Roni Loren: Rebecca is a dutiful daughter. She was raised to stay on the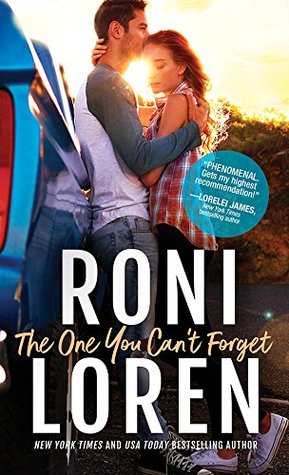 straight and narrow as she's meant to follow in her father's footsteps and one day take over his law practice. When she's not representing her divorce clients, she's working on helping her dad in his political campaign. She's smart, logical, and has no desire to ever get married.
Wes is trying to get back on his feet after a nasty divorce and losing out on opening his dream restaurant. Teaching cooking in an after school program for disadvantaged kids seems like a waste of his skills, but he loves to share his love of food with kids who were just like him. He's smart, sexy, creative, and dreaming of having his own business again.
Rebecca is one of the lucky ones who survived the Long Acre shooting, but she hasn't escaped the guilt or trauma of that event. It doesn't help when she's experiencing flashbacks with the renewed interest and upcoming documentary. Wes and Rebecca reconnect under unfortunate circumstances and this time both experience an unexpected attraction.
"So maybe we can call it a request for tonight not to be the last time I ever talk to you. How about that?"
"A request for further conversation?"
He nodded resolutely, eyes sparkling with humor. "Yes. Totally. Should I send a formal invitation through your secretary? Because that sounds pretty official."
Rebecca and Wes are pretty much opposites, but they can't help being drawn to each other. They banter and support each other's aspirations. What starts as an unlikely friendship becomes a fling. They are looking for a second chance and find someone who is still dealing with their own past.
She smiled. "Maybe I'm just weird."
He laughed, the heaviness of the earlier conversation lifting. "Well, you did threaten to tie me up and keep me in your imaginary basement the first night you met me."
"See." She picked up her sandwich. "Better be careful, Wesley Garrett."
The One You Can't Forget has banter, chemistry, and heat all while dealing with deeper issues around violence. Roni Loren developed an interesting and engaging cast of characters as well as a relationship that brings out the best in the characters. The One You Can't Forget can be read as a standalone and I'm looking forward to the other books in this series. Fans of Lexi Blake, Shayla Black, and Lorelei James will enjoy The One You Can't Forget.
Book Info:

Publication: June 5th 2018 | Sourcebooks Casablanca | The Ones Who Got Away #2
Most days Rebecca Lindt feels like an imposter…
The world admires her as a survivor. But that impression would crumble if people knew her secret. She didn't deserve to be the one who got away. But nothing can change the past, so she's thrown herself into her work. She can't dwell if she never slows down.
Wes Garrett is trying to get back on his feet after losing his dream restaurant, his money, and half his damn mind in a vicious divorce. But when he intervenes in a mugging and saves Rebecca―the attorney who helped his ex ruin him―his simple life gets complicated.
Their attraction is inconvenient and neither wants more than a fling. But when Rebecca's secret is put at risk, both discover they could lose everything, including what they never realized they needed: each other
She laughed and kissed him. This morning she'd melted down. But somehow this man had her laughing and turned on only a few hours later. Everything inside her felt buoyed.
She felt…light.
She'd forgotten what that felt like.