In One Snowy Night (Heartbreaker Bay #2.5) by Jill Shalvis, Max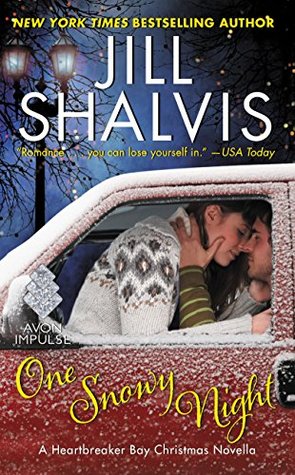 Stranton was roped into giving Rory Andrews a ride back to their Tahoe hometown for Christmas by her boss. But if he's being truthful, he's had his eye on her for a long while. Even though their time in high school together ended badly. So as Max and his foolish dog Carl head through the oncoming blizzard with Rory in tow, he knows now is the time to confront their attraction. And one way or the other they'll finally make a decision. He hopes it will be a decision that will lead to a happy holiday for them both.
Max didn't feel like smiling but that's exactly what he did since his dog was bigger than she was. "Shouldn't you be in his lap?"
She had her arms wrapped around Carl in a hug and they looked pretty comfy. "He wanted a snuggle."
No shit. Any male in his right mind would want a snuggle from Rory.
Rory knows she's tempting fate by accepting a much needed ride home for Christmas with Max, considering she's been trying to deny her crush on him since high school with little success. And while things get off to an awkward start, she finds herself wanting to find out why things became so stilted between them. The truth might be a hard pill to swallow once Rory finds out, but it seems to open them up to the possibility of a future together as a couple. That is, if she has enough courage to believe she can pursue Max without messing things up between them.
"Does Christmas always have to suck so hard?" she whispered.
He looked at her for a long beat and then slowly shook his head. "No. Not always."
They stared at each other some more and then…he kissed her.
One Snowy Night is the newest release from Jill Shalvis in her entertaining Heartbreaker Bay series. Just in time for the holidays, we've been gifted with a steamy romance that will make readers laugh as much as they sigh contentedly.
This was classic Jill Shalvis. If you've read any of her work before, you know she uses a nice dash of humor to make her characters come alive and to make their sometimes tough situations more bearable. And while this was a really short novella (I seriously want more of Max and Rory in the future!!) it was big on emotion and that undeniable connection our main characters had been trying to overlook for over a while. I think for readers who are new to the series, this may seem like an insta-love or at least insta-lust book. But if you've been following along since the beginning, you've undoubtedly seen Rory and Max and have noticed their spark as we've gotten to know them.
There really weren't many characters in the story where it's a brief novella so the setting and the scenes feel kind of intimate. I liked the setup, with Max, Rory and Carl heading up into the mountains to visit their families for Christmas. The blizzard was the perfect catalyst to force them to confront their past together in high school as well as their attraction. I truly liked both characters and thought they felt genuine. Max was a big badass but he had a heart of gold. And Rory was a cute-as-a-button, smart, capable women who had a wonderful compassionate nature. Then of course there was lovable, goofy Carl who hilariously stole a few scenes. But I thought there was still just enough emotion involved to make this a solid read.
I look forward to every book Jill Shalvis puts out and this Heartbreaker Bay series is becoming one of my favorites. With lovely friendships, a terrific setting, quirky people, and the magic of romance–and the holiday!–in the air, how can you go wrong?
Book Info:

Publication: November 8th 2016 | Avon Impulse | Heartbreaker Bay #2.5
New York Times bestselling author Jill Shalvis returns to Heartbreaker Bay with a fun and festive holiday novella!
It's Christmas Eve and Rory Andrews is desperate to get home to the family she hasn't seen in years. Problem is, her only ride to Lake Tahoe comes in the form of the annoyingly handsome Max Stranton, and his big, goofy, lovable dog Carl.
Hours stuck in a truck with the dead sexy Max sounds like a fate worse than death (not), but Rory's out of options. She's had a crush on Max since high school and she knows he's attracted to her, too. But they have history… and Max is the only one who knows why it went south.
They've done a good job of ignoring their chemistry so far, but a long road trip in a massive blizzard might be just what they need to face their past… and one steamy, snowy night is all it takes to bring Max and Rory together at last.