One Texas Night…by Sara Orwig: Six years ago, Texas billionaire Jared Weston and antiques appraiser Allison Tyler shared one passionate night together that they vowed never to repeat. Now, Jared has hired Allison's company to appraise the value of some antiques he has inherited and wishes to sell. Allison is content to let things stay all business between them. There's just one problem: the attraction between her and Jared is still sizzling, an attraction Jared is more interested in indulging than fighting.
"With the light of day, however, came reason. They knew they could not see each other again because there was no future in it. Allison had college to get through. He had a career that was commencing, and they both had Sloan to contend with–a friend Jared did not want to hurt and a brother she wanted to keep happy. So they agreed the night–the wonderful searing night–would be their secret."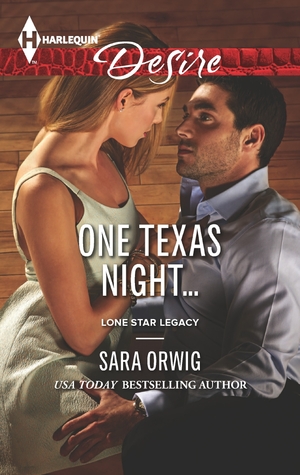 Jared knows that behind her businesslike façade, Allison is just as hot for him as he is for her. The fact that his thrill seeking ways and disdain for settling down are in direct opposition to what Allison says she wants is more of a challenge than a turn off. He enjoys trying to get Allison to loosen up and give in to the passionate attraction between them.
But is Jared willing to give up his high risk, non-committal ways once he realizes he has deeper feelings for Allison? Can Allison love a man who's always putting his life at risk for fun? And there's always the tiny issue of Allison's brother and Jared's best friend, Sloan…
One Texas Night… by Sara Orwig pulled me in from the first chapter with the recounting of what happened six years ago. I loved Allison and Jared together when they were both young and a little wild. The dialogue was snappy and the attraction sizzled on the page. It was so easy to get caught up in their attraction that you lost sight of what was stopping them from being together. Normally, this would be a great thing, but for some reason, it didn't work for me as well in One Texas Night.
I liked Allison, Jared, and even Sloan, worrier that he was. I felt that the conflict between wanting to be with Jared and not being able to handle his high risk lifestyle in light of the tragedy in her past gave Allison's character depth. I also thought that Ms. Orwig did a great job with giving Jared an actual reason why he felt that not settling down and continuing his risky behaviors was the right decision for him to make. It's just that so much time is spent on the less pressing reasons they can't be together that you only glimpse these real impediments. I also felt like the character of Phillip got a bit of a raw deal. I didn't believe what he was in the story to do was even remotely possible for him to do, which was sad because I'm sure he was a more interesting character than he got credit for in the story.
I can't say that I was disappointed in One Texas Night; it's a solid read. It's just that Ms. Orwig does such an outstanding job of painting Allison and Jared's first encounter that I was expecting more. I loved the way that the love scenes were done because they took me back to that earlier scene with the writing. Allison's black moment when she realizes Jared's lifestyle is a serious impediment to their relationship was also gripping. There were moments in One Texas Night that I was completely lost in the story and loving it. It's just that I didn't feel that way throughout.
I would recommend One Texas Night to readers who love a couple with boatloads of sexual attraction and tension, a flirty girl who becomes a pragmatic woman, and the high risk taking man who tempts her to let her naughty side out to play.
Book Info:

Published November 5th 2013 by Harlequin Desire(Book 2266) | Lone Star Legacy
Nothing tempts like the forbidden in this Lone Star Legacy novel from USA TODAY bestselling author Sara Orwig
It had been a night of heart-pounding seduction…. In the morning it became their little secret. Jared Weston could never see his best friend's little sister again. But that didn't mean he'd stop wanting her….
Years later, when the billionaire tycoon hires her, Allison Tyler is all grown up and hotter than ever. But the new Allison is cautious, pragmatic—everything the daredevil thrill seeker is not. She wants forever; he wants right now. And she's still off-limits. But can a hot-blooded Texan like Jared choose propriety over passion?