In The Derby Girl by Tamara Morgan, Gretchen "Honey Badger" Badgerton knows what is like to be judged. She lives with her grandmother and works at a coffee shop. But what she really loves is roller derby, and that is the one thing that she will not give up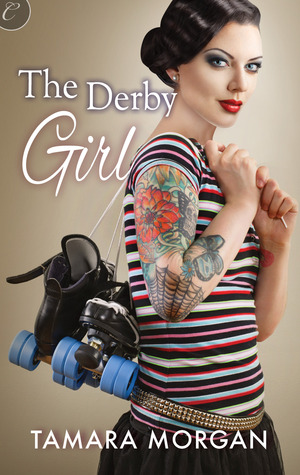 Dr. Jared Fine is used to only depending on himself. So when late at night he finds himself with a flat tire, he is surprised by the feisty, sexy and beat up looking woman that stops to help him. He is surprised by the instant attraction he feels towards her, he has been living life his way and basically taking care of his needs without commitment. But for some reason Gretchen has woken the protective side of him and he needs to find where things can lead.
What Jared cannot believe is that she so obviously knows him and he can't place her. Somehow he just knows that he will regret when he finds out who she is and that he never noticed. When he finds out that she is the person that serves him his coffee every morning, he is surprised because he always saw her as a very young woman probably in her late teens. But when he breaks their date and tells her why Gretchen will make him regret his assumptions, because she will put him right on her age, but she will make sure that he won't be able to it live down any time soon.
Gretchen knows that Jared is attracted to her "bad girl" look and illusion, but she believes that he won't like who she really is. Jared will have a hard time proving to Gretchen that he is actually interested in the real her and not the façade she shows everyone. But first he will have to find the peace and forgiveness from himself before he can show Gretchen that he truly loves her.
The Derby Girl by Tamara Morgan is not your usual romance, it has two very scarred main characters that need help healing but don't realize it yet. But once both Gretchen and Jared know what is on the line if they don't open about the past they will realize what truly matters and what is worth fighting. And the mystery about Gretchen's grandmother's fortune will keep you entertained while hating her money hungry sisters. While Jared will find the truth behind what he believes is the loss of friendship between him and his business partners.
If you like a good romance with a fun plot and a slightly different theme, don't miss The Derby Girl by Tamara Morgan.
Book Info:

August 26th 2013 by Carina Press | Book two of Getting Physical
Roller derby girl Gretchen "Honey Badger" Badgerton lives in the moment, no apologies. Like every woman in Pleasant Park with a pulse, she finds Dr. Jared Fine irresistible, but she's taken by surprise when her unattainable new neighbor asks her out.
On paper, Jared is the perfect man: gorgeous, wealthy and charitable. But his golden image is just that, and opening an upstate practice is a welcome chance to start a new life. When Gretchen stops to help him with a flat tire, he's intrigued by her feisty attitude—and her sexy body art. There's something refreshing about being with a take-charge woman who doesn't expect him to be anything but himself.
Though Gretchen is hesitant to shatter Jared's "bad girl" illusion of her, she has to face facts: she's fallen for the good doctor. She's used to putting everyone else's needs before hers, but as their relationship heats up, can she handle having someone take care of her for a change?