In One Week to Win his Heart (Sydney Surgeons #2) by Lucy Clark, love was the last thing he expected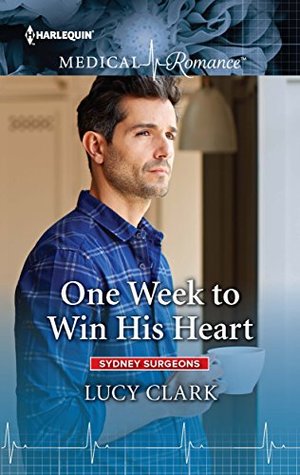 to find while on the last week of his medical tour, but there's something about Melody Janeway that gets to George Wilmont. However, knowing he's going to be leaving in a week, it's hard for Melody to take a chance on him. Will George be able to convince Melody that they could be good together, or will old wounds hold Melody back from her chance at happy ever after?
"When you're ready, it'll happen." Her words were soft. "I haven't lost a spouse, but I have lost close friends and family. Grief takes time and that time is different for everyone."
"Yes." He raked a hand through his hair. "And then you meet someone new and that person makes you…feel."
"Feel what?"
"Just feel." George shook his head. "You made me feel today, Melody. That's what I've come here to tell you because I don't understand it and I didn't ask for it and…I just wanted to be open and clear."
Finding love again can prove quite the challenge, but future happiness worth the reward, and I'm glad this hero and heroine were able to overcome the tough obstacles they face to be together. Really, and right from the beginning, this story encompassed the right blend of emotional and intense moments and playful banter that had me loving the main characters back stories, their growing relationship and everything they go through on their journey to happy ever after including whether Melody can handle the fact that George is only in town for the week; and whether she can put her trust in George to treat her right.
Furthermore, although this story started off a bit slow with the hero and heroine dancing around each other in the way they endeavour to get to know each other, I found the more I read the more captivated I was, as Melody deserves a man that will treat her right while George deserves happiness again since losing his wife. Will these two find a way to be together, especially since she lives in Sydney while he lives elsewhere? As for the main characters, they're relatable, likeable and had me hoping for the best for them, as Melody does her best to resist the hero, but finds it impossible when he's enticing her with every interaction between them. How long will Melody be able to resist?
Wanting to kiss you was wrong?"
"Oh, you know it was," she growled. "And then you want to pretend it didn't happen."
"But it didn't happen," he returned.
"Not the kiss, that's not what I'm talking about."
"Then what are you talking about? I'm completely perplexed about why I'm suddenly in the doghouse when, as far as I'm concerned, I've done nothing wrong."
"Isn't that always the way with you men?"
With the heroine, she's strong, brave, hard-working and I liked how determined she was to resist the hero because she's been hurt in past relationships and knowing that the hero isn't sticking around is a good enough reason to not get involved with him. However, in saying that, I liked that she finally gave the hero a chance because they're good together and help to heal each other. While the hero, he's hard-working and I liked how determined he was to follow the dream he and his late wife had set, even though doing the tour without her isn't easy. Yet, Melody makes everything better for him with her kind and caring nature, even if she is playing hard to get. I also liked how determined he was to win the heroine over because they both deserve happiness after everything they've been through in their pasts.
Overall, Ms. Clark has delivered another really good read for this series where the chemistry between this pair was fantastic; the romance charmed me and had me liking this couple together; and the ending had me loving the decision the hero makes in order to be with the heroine. Then again, it gives the heroine a break from the position she's holding at the hospital. However, it was the surprise the heroine had at the end that left me smiling for a while, as Melody has finally found her Mr. Right. I would recommend One Week to Win his Heart by Lucy Clark, if you enjoy medical romances or books by authors Jennifer Taylor, Amy Ruttan, Caroline Anderson and Fiona McArthur.

Book Info:

Publication: April 1st, 2018 | Harlequin Medical | Sydney Surgeons #2
Can one week of passion…
lead to happily-ever-after?
Love has been the last thing on surgeon George Wilmont's mind since his wife passed away. Until he meets stunning head of orthopedics Melody Janeway on the last week of his lecture tour. Their instant connection explodes into passion, but with only a week before George leaves, can a passionate fling really become a forever love?