One Wild Bull Rider by Tina Leonard is the first book by this author that I have had the pleasure to read. I love a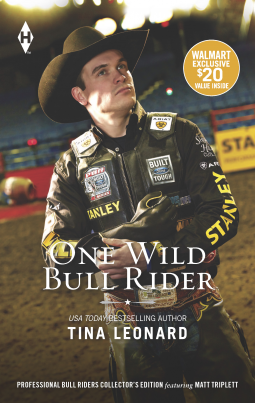 great cowboy book and this book not only had hot hunky cowboys, it has humor in spades.
Creed Callahan is on of 5 brothers. His Aunt Fiona is trying to get her single nephews married off and wants them to have baskets full of babies. Creed has no intention of getting caught like his brother Pete. He has no intention of settling down and taking a wife. After a bull riding accident leave him with a concussion and the vision of an saving angel name Aberdeen, Creed might just be singing a different tune.
Aberdeen Donovan was married once to a hot shot cowboy and has no intention of making the same mistake twice. She has a cowboy congregation that she needs to tend to and 3 little nieces to raise. She has no time for the hot hunky cowboy that makes her melt with a look and sets her blood boiling with just one kiss.
After a night of passion and an unexpected pregnancy it will take a village or the Callahan army to get these two love birds on the path to HEA.
I loved everything about this book. The humor between the brother is classic and had me rolling my way through this book. Aberdeen's ex was a trip and proved what a coward that he truly was. When Creed and Aberdeen finally faced the fact that they loved each other and wanted to spend the rest of their lives together, it was sweet, touching and oh so funny. This is part of a series, but never was I lost.
One Wild Bull Rider by Tina Leonard can be read as a stand alone and will hold the readers attention from the first page to the last.
Book Info:

Pub Date Apr 21 2015 | Harlequin Pro Bull Riders
No woman's going to hog-tie Creed Callahan into getting hitched. Even if it means losing his claim on Rancho Diablo, the New Mexico spread that one of six brothers will inherit—whoever marries and has the most children. Come hell or high water, Creed plans to be the last single man standing. Until sweet temptation comes knocking….
Preacher Aberdeen Donovan is just fine tending her flock and getting ready to adopt her three nieces. Her job description does not include saving some incorrigible cowboy from himself. But there's something about a little competition that makes the devil-may-care bachelor change his mind about needing a wife. And marriage would help Aberdeen provide a home for the little girls. Not to mention, for the little secret that's on the way….