His Forbidden Princess (Royal Holiday #4) by Jeannie Moon: Princess Sofia of Aubonne was different, it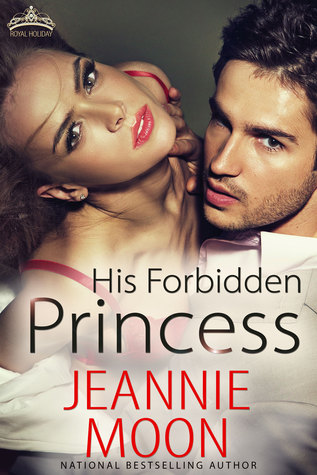 wasn't that she didn't want to be a Princess per say. So she went off to England, went to school and fell in love, with an American, Ian Stuart.
Ian was a former Army Ranger and getting his Master's degree. All he knew was this girl named Sofia had stolen his heart. Then the night they first made love, secrets bigger than he could have ever imagined came pouring out and everything changed.
Now several years later Ian is watching Sofia's back even if she doesn't realize it. He will keep her safe no matter what, but safe for who?
A princess, terrorists, possible hurricane and Twinkies; what more could one possibly want? His Forbidden Princess by Jeannie Moon is a quick novella that somehow manages to have the right amount of suspense and romance along with character development and details to bring you into another world for a short time. This story will confuse and delight you while making you realize that sometimes the "right" thing isn't the best thing.
For a fun and lighthearted read make sure to add His Forbidden Princess by Jeannie Moon to your collection.
Book Info:

Published April 30th 2015 by Tule Publishing (first published April 29th 2015)
Eight years ago, university student Ian Stuart fell in love with his sweet, beautiful classmate and he's never forgotten her. Sofie loved Ian with all her heart in return, but she didn't trust him with one little detail about her life she'd neglected to share.
She was a princess, and they could never be together in the outside world.
Now Crown Princess Sofia is in danger. An insurgent faction in her country has targeted the royal family, and while Sofia is visiting the United States, she is forced to go into hiding. Assigned to protect her is none other than FBI Special Agent Ian Stuart.
Once again Ian and Sofie are in an impossible situation, fighting their feelings for one another, while trying to stay safe. Will their love for each other prove to be the most dangerous game of all?