Only a Crush by Delancey Stewart: When former Navy pilot Annalee agreed to help her squadron buddies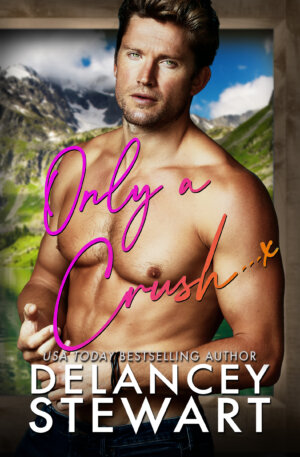 with event planning for their new mountain resort, she definitely did not expect to find her self getting snowed in one of the cabins with non other than grumpy hottie contractor Mateo. The cabin might be icy cold thanks to the freak snowstorm but things between Annalee and Mateo sure begin to heat up. But with Mateo being a single dad with family values at his core and Annalee having no intention of settling down in the near future do these two even really stand a chance at anything more than a few day and nights of steamy passion?
Pure perfection! Only A Crush was just the book I have been looking for, this steamy cute fast paced read checks every single box and then some. Stewart just knows how to create the ultimate swoony sweet romance read and there is yet to be a book of her's that I have not absolutely adored. Also can we just take a moment to appreciate this cover? I mean hello!! Talk about setting the image for our hottie contractor Mateo.
I really enjoyed the fact that our heroine was the former Navy personal instead of it following the standard with the male lead holding some sort of serves position. Annalee was such a boss leading lady, I just loved that she was so opposite to the norm. Not only was she a kick butt Navy pilot but once we got to know her, she was actually a very real and relatable character. I have to say she is the one that makes this book such a must read in my option, I loved that she did not buckle and follow the princess and bows route that her parents had wanted for but instead went out and followed her passion.
Okay now for our hottie single dad Mateo, well simply put he was perfection. Mateo just melted my heart, got to love a guy that puts his daughter first. My heart immediately went out to Mateo for carrying around so much of guilt and grief for the loss of his wife and wanting to do right by his daughter. I think the fact that both Annalee and Mateo were both facing their own issues against dating made their undeniable connection all the more sweet. Good gosh did this couple have some incredibly hot chemistry.
I just loved getting to see Mateo and Lily together, this father daughter pair just stole the show with their super cute bond. Lily was such a cutie pie, I loved that she played such a big role in the story and ultimately helped pushed this couple to their happily ever after.
Only A Crush was a heartwarmingly, sweet yet steamy single dad romance that you definitely do not want to miss!
Book Info:

Publication: May 23, 2022 | Delancey Stewart |
I'm the girl who defies expectations. The girl who'll never stay inside that box you think will fit me.
And right now? I'm the girl working as event planner at my Navy pal's mountain resort. We flew together in the Navy, and it feels right to be back with my squadron mates when they need help now.
But when I agreed to go check out some rustic backcountry cabins for the resort's opening event, I didn't plan on the so, so hot Mateo coming along with me. He's a contractor at the resort, and he has this whole grumpy single dad widower thing going on… But since he's got a kid, and family is the last thing I want, I'm staying far, far away.
Until we get stranded together in one of those cabins in a freak snowstorm.
And now? Staying away from him is the last thing I want to do. But he doesn't fit my life plans any more than I fit his.
It's a couple days (and insanely hot nights) in a cabin. Nothing else. I can do this. It's only a crush, after all.
A full length standalone happily ever after with a mystery that runs through the whole Kasper Ridge series from USA Today bestseller Delancey Stewart.