The Love Connection by Denise Williams: Ollie Wright refuses to risk her heart again after the betrayal of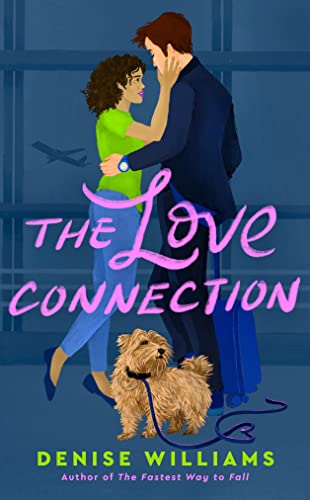 her ex. The only risks she takes are starting a pet grooming salon in the airport with her friend and expanding their business. Mr. Tuesday (Bennett) was excellent eye candy and watching him get off his plane every Tuesday was a treat. There was no risk to the heart involved until Bennett rescues the runaway dog she was chasing through the airport. Ollie can manage to have an airport friendship with Bennett while helping him with his book. How risky could that be to her heart?
Bennett Baker is a risk assessor who writes romance novels on the side, but writer's block has kept him from writing lately. Meeting Ollie and hearing her laugh rejuvenates him and he can't stop writing. He was intrigued by Ollie and her effect on his writing. He is not one to take risks, but she makes him want to risk it all.
I loved the cute-meet between Bennett and Ollie and then watching their relationship grow while they had airport dates. Ollie was done with relationships and was playing it safe in her personal life by not dating. However, she is ready to take a chance with her business and expand. Bennet was the opposite and didn't want to give up his safe, dependable job. He was unwilling to risk his future by depending on his writing alone, especially since he was in a writing slump. They complemented each other perfectly and understood each other's uncertainties.
The Love Connection is the first novella in the Airport Novella collection. While it was a short story, the characters were developed and easy to connect with. Their slow-burning romance with dates at the airport was entertaining and original. The side characters were amusing, and I look forward to seeing them in future books. I enjoyed the book and its ending will leave you with a smile.
Book Info:

Publication: May 17, 2022 | Berkley | Airport Novellas #1
An airport pet groomer meets her frequent flier crush in this captivating romance novella from the acclaimed author of How to Fail at Flirting
Ollie Wright loves the thrill of taking chances, like opening a pet grooming salon in an airport where every day is a little unpredictable. The one thing she won't risk is her heart, so catching glimpses of a cute stranger from afar is enough romantic entanglement for her.
Bennett Baker is a professional risk assessor by day while writing popular romance novels at night, except he finds himself facing writer's block. His life of carefully planned stability comes crashing down when he rescues a slippery pup in the airport and returns it to the enchanting pet groomer whose laugh inspires him to start writing again.
Their chance encounter and instant chemistry thrusts them into a whirlwind of airport dates at pretzel kiosks, stolen glances at empty gates, and late-night texts that leave them swooning. If the risk-adverse Bennett can take a chance on uncertainty and adventurous Ollie will break her own rule, their relationship might stop taxiing and actually take off.