In The Bluff (Calamity Montana #2) by Willa Nash, Everly Christian followed her long-time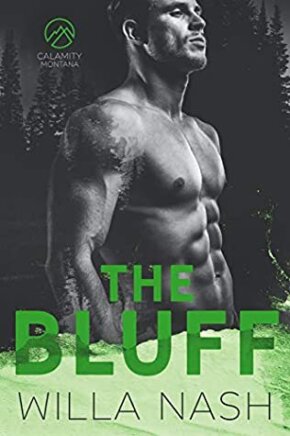 best friend Lucy to Calamity, Montana after they were forced out of Nashville by a crazy situation. Trying to make the best of building a new life in the small town, watching Lucy fall in love with the local sheriff was worth all they've been through. Not that Everly wants that for herself. But a job she doesn't hate and setting down roots for a while would be great. Then a one-night stand with renowned local artist Reese Huxley has her seeing stars, it's so good. And it turns out Everly might be able to help him with his custody issues by agreeing to a fake marriage. Now to convince her heart that what she's feeling for sexy Hux is only lust–not love.
'What I wouldn't give for a rewind button on life, not to fix my mistakes, but to relive the moments I hadn't appreciated enough.'
Hux has spent years not only cultivating his career as an artist and growing his gallery in Calamity, but he's also held onto the precious few moments he's had with his now teenage daughter Savannah. With a checkered past that still haunts him and a vindictive ex-wife making his life miserable, Hux doesn't know how to get custody of his daughter. A passing comment by his lawyer about getting married or having a serious relationship has him wondering if that would work. When Everly offers to help, Hux has a feeling it's a bad idea. He's way too attracted to her. It could only make things even more tangled up. But then again, what does he have to lose? If it means he gets time with Savannah and Everly both, then it could be worth it in the long run.
'This thing with Ev was so different. Complicated. Maybe there were feelings there, but love? No. Couldn't be. That was a line I wasn't going to cross.'
A delicious modern day marriage of convenience romance that paired together two strong-willed individuals for a stellar cause, The Bluff was all that I had hoped for…and then some.
'This marriage had begun as a lie. A ruse. A hoax.
Turns out, the only people we'd been bluffing were ourselves.'
I'm definitely loving this Calamity Montana series by Willa Nash (aka Devney Perry). The small town setting, the nosy locals who (mostly) mean well, and the group of friends this series is based around so far, it all works. I should mention that The Bluff can be read as a standalone but I think you would get more out of it if you read The Bribe first where the stories are connected by BFFs Lucy and Everly–plus Hux's daughter Savannah was in book one as well.
Speaking of broody Hux and his troubled daughter, the idea behind the fake marriage was to help him get custody rights with Savannah. I won't get into his past and why he wasn't a part of her life much at first but it was pretty heartbreaking for both of them to miss out on that time together. I *adored* Hux as a dad. Thoughtful, caring, considerate, but still a strong male figure in Savannah's life whenever possible. Seeing his devotion to her from his own perspective was so very touching. And is also what I think sealed the deal for Everly. How could she not help Hux considering all the times he'd been wronged when it came to his daughter?
Everly was an absolute riot, just as I figured she would be. She was outspoken but not mean or pushy. And she owned her sexuality in a way that was empowering where she knew her own mind and self-worth. But Everly was still a bit freaked out from the situation she and Lucy faced down in The Bribe. And I'll admit it kind of broke my heart to see her scared. Then there was grumbly, oh so handsome Hux who appeared in her life suddenly. Someone who Everly was wicked attracted to *and* who made her feel safe. Win-win. They made quite the fiery duo where they both were pretty take charge sort of people. But it was heartwarming to see Hux and Ev fall for each other slowly but surely and realize how good they really were for each other. *dreamy sigh*
Note: You will absolutely want to read the bonus epilogue at the end of The Bluff! It's a bit of a tear-jerker scene but it sets up a future story for an important character in this book.
The Bluff was yet another perfect reason why Willa Nash is one of my go-to authors. Flirty and seductive, but also with painful pasts and redemption, I hated to see this book come to an end. Highly recommended.
Book Info:

Publication: Published February 4th 2021 | Devney Perry LLC | Calamity Montana #2
From USA Today Bestselling Author Devney Perry writing as Willa Nash comes a small town Montana romance.
As Calamity's newest resident, Everly Christian thought life in small-town Montana would be dull and tame—and she needs a little mundane after the last few chaotic years. But one night, boredom drives her to the local bar, where she finds herself sitting beside a handsome and mysterious artist.
The man is anything but dull and tame, especially in the bedroom, and when she steps out of his shower and overhears his conversation, life gets interesting again.
Reese Huxley needs a wife.
And why shouldn't Everly be the bride?
She's got her reasons for agreeing to the hasty nuptials—reasons she's keeping to herself. As long as she can stop herself from falling in love with her husband, she'll make it out of this sham marriage in one piece. But Everly has a weakness for wayward men, and the more Hux pushes her away, the more she realizes this bluff is anything but a lie.